Last Updated: 12/14/15
ProfitWise News and Views
Articles on economic development news and trends including small business lending; labor trends and tax incentives to assist underserved communities; consumer issues such as predatory lending, credit scoring and identity theft; regulatory compliance topics; and research activities relevant to community development. Also includes a calendar of events and district news. View Guidelines for Authors.
The material in ProfitWise News and Views is not necessarily endorsed by, and does not necessarily represent views of the Board of Governors of the Federal Reserve System or the Federal Reserve Bank of Chicago.
Current Issue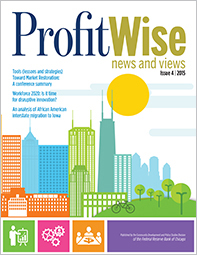 Tools (Lessons and Strategies) Toward Market Restoration: A Conference Summary
In the final edition of 2015, we feature summaries of two 2015 conferences. Senior business economist Susan Longworth and Michael Berry, director of policy studies, prepared the summary of "Tools Toward Market Restoration," which explored methods and strategies to revitalize places struggling economically following the Great Recession. Longstanding conditions of low employment and educational attainment levels, economic and social isolation and general disinvestment affected these areas for decades before the recession, which was also a topic discussed. "Future Focus: Preparing for Workforce 2020," explored the so-called worker skills gap, why employers are having difficulty filling open jobs and ways that workforce development efforts must evolve to meet changing needs, among other areas. The Fed's Jason Keller, economic development director for Illinois, with Norman Walzer and Diana Robinson of the Center for Governmental Studies at Northern Illinois University, provide, in addition to the summary, supplemental demographic data and information on emerging employment trends in an article entitled "Workforce 2020: Is it time for disruptive innovation?." Finally, Marva Williams, economic development director for Iowa, explores black migration to Iowa, and misconceptions about public assistance as the prime motivation for people moving to the state. Download the publication.
---
Past Issue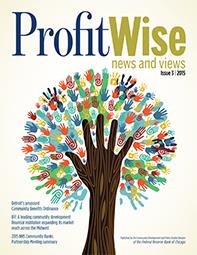 2015 NHS Community Banks Partnership Meeting Summary
In this third edition of 2015, NHS's Kelley Pearson and Chicago Fed Illinois Economic Development Director Jason Keller summarize a second quarter convening at the Fed: NHS of Chicago's annual Community Banks Partnership meeting. Among other topics, panelists discussed the housing market for 'millennial' buyers, and the regulatory landscape for community banks. Desiree Hatcher, the Fed's community development director for Michigan, explores community benefits agreements and ordinances in Detroit, providing some background, as well as on-the-ground experience in the city as it struggles to regain ground economically. We feature this month a profile of IFF – formerly Illinois Facilities Fund – a CDFI in its 27th year of operation, as it expands its financial and development services to a broad collection of Midwestern states. Download the publication.