Last Updated: 06/30/15
ProfitWise News and Views
Articles on economic development news and trends including small business lending; labor trends and tax incentives to assist underserved communities; consumer issues such as predatory lending, credit scoring and identity theft; regulatory compliance topics; and research activities relevant to community development. Also includes a calendar of events and district news. View Guidelines for Authors.
The material in ProfitWise News and Views is not necessarily endorsed by, and does not necessarily represent views of the Board of Governors of the Federal Reserve System or the Federal Reserve Bank of Chicago.
Current Issue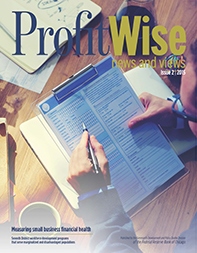 Measuring Small Business Financial Health
Throughout the Great Recession and continuing into the recovery, small businesses have played an important role in creating jobs and stabilizing communities. Stories of small business owners overcoming obstacles to provide valuable services and employment are highlighted regularly by pundits, politicians, and policymakers alike. However, little
Attention has focused on the question of what drives the financial health of these often young, often very small businesses. Download the publication.
---
Past Issue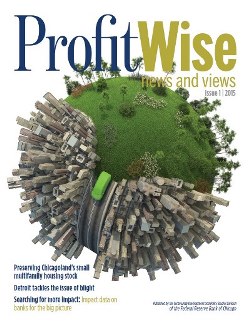 Preserving Chicagoland's Small Multifamily Housing Stock
Our first edition of 2015 features contributions from Desiree Hatcher, a director in our Community Development group, on measures to address blight in Detroit; from Jack Markowski, president of Community Investment Corporation and chairman of the Preservation Compact, Inc., on a recent conference that addressed preserving Chicago's small (5- to 49-unit, unsubsidized) affordable rental housing stock, and related policy implications; and from the National Community Investment Fund's Emily Sipfle and Farah Ansari on National Community Investment Fund's BankImpact product, which provides key information to actors in the community development banking sphere. Download the publication.