What is the High School Fed Challenge?
The High School Fed Challenge is an academic competition that provides students grades 9-12 the opportunity to study the U.S. economy through the lens of the U.S. Central Bank. The program is designed to encourage students to learn more about economics and the work of the Federal Open Market Committee. The challenge offers students an enriching experience to think critically about the economy, construct an argument and present their well-crafted research findings to Federal Reserve Bank economists.
How to get involved?
2022 High School Fed Challenge Important Dates:
Orientation Videos: Available week of January 10–14, 2022
Registration Deadline: January 28, 2022 @ 11:59 p.m. CST
Video Submission Deadline: February 18, 2022 @ 11:59 p.m. CST
Finalist Notification: March 14–17, 2022
Finalist WebEx Q&A: March 21–29, 2022
Winner Announcement – Virtual Event: April 6, 2022
Contact education@chi.frb.org to get your school involved.
The Virtual High School Fed Challenge will feature teams of five or fewer students representing high schools throughout Michigan, Illinois, Iowa, Wisconsin and Indiana. Each will provide a 15-minute video presentation on the state of the U.S. economy and a policy prescription for the Fed. Finalist teams will advance to a live 15-minute WebEx session to answer judges' questions on their presentation, the economy and the Fed. The winner will be featured at a virtual event and their presentation will be posted on the Chicago Fed's social media accounts and website.
More information:
Benefits of the Fed Challenge
The Fed Challenge is designed to align with the Framework for 21st Century Skills and Common Core State Standards. These frameworks stress the importance of developing skills in critical thinking, communication, creativity and collaboration to prepare young adults for college and life.
Students participating in the Fed Challenge gain the following:
Ability to analyze real data and use industry tools to assess the U.S. economy.
Prepare a well-organized presentation to demonstrate research findings and provide recommendations.
Develop critical thinking skills in preparation for a live Q&A session with professional economists.
Skills necessary for successful collaboration with team members including communication, flexibility, organizing, planning, listening and problem-solving.
Past Fed Challenge Winners
2021 Competition Results
Bernanke (Rookie) Division:
Greenhills School – Ann Arbor, MI
Yellen (Experienced) Division:
William Fremd High School – Palatine, IL
2019 Competition Results
Winning team:
University School of Milwaukee – Milwaukee, WI

Finalists:
Nicolet High School – Glendale, WI
2018 Competition Results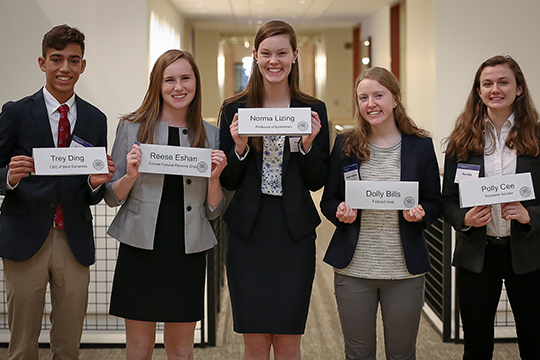 Winning team:
St. Joseph's High School – South Bend, IN
Finalists:
Okemos High School – Okemos, Michigan
William Fremd High School – Palatine, Illinois
How does the Fed Challenge Work?