High School Fed Challenge
COVID 19 + Fed Challenge 2020 Cancellation
The Federal Reserve Bank of Chicago is monitoring the evolving health situation regarding Coronavirus (COVID-19). The health and safety of everyone who visits the Bank is important to us and we continue to closely monitor the situation and follow CDC guidance.
We have made the decision to cancel the upcoming Chicago Fed Challenge event scheduled for Tuesday, April 21, 2020. We are making this decision early in an effort to provide our participants and judges ample time to adjust their schedules.
We thank you in advance for your understanding and look forward to staying connected.
What is the High School Fed Challenge?
The High School Fed Challenge is an academic competition that provides students grades 9-12 the opportunity to study the U.S. economy through the lens of the U.S. Central Bank. The program is designed to encourage students to learn more about economics and the work of the Federal Open Market Committee. The challenge offers students an enriching experience to think critically about the economy, construct an argument and present their well-crafted research findings to Federal Reserve Bank economists.
How to get involved?
Dates for the 2020 High School Fed Challenge are as follows:
Detroit Fed Challenge Orientation / Workshop: January 14, 2020
Chicago Fed Challenge Orientation / Workshop: February 12, 2020
Detroit Fed Challenge Preliminary Round I: March 18, 2020
Chicago Preliminary Round II and Final Round:

April 21, 2020
Contact Cindy Ivanac-Lillig to get your school involved.
How does the Fed Challenge Work?
School teams within the Seventh District are invited to participate in the annual Fed Challenge. Five students are chosen to represent their school in a simulated FOMC meeting where students take 15 minutes to discuss the current conditions of the U.S. economy, present a short-term forecast and offer policy recommendations based on their analysis. After their presentation, each team must defend its recommendation before a panel of Fed economists in a 10-minute Q&A session.
Benefits of the Fed Challenge
The Fed Challenge is designed to align with the Framework for 21st Century Skills and Common Core State Standards. These frameworks stress the importance of developing skills in critical thinking, communication, creativity and collaboration to prepare young adults for college and life.
Students participating in the Fed Challenge gain the following:
Ability to analyze real data and use industry tools to assess the U.S. economy.
Prepare a well-organized presentation to demonstrate research findings and provide recommendations.
Develop critical thinking skills in preparation for a live Q&A session with professional economists.
Skills necessary for successful collaboration with team members including communication, flexibility, organizing, planning, listening and problem-solving.
Past Fed Challenge Winners
2019 Competition Results
Winning team: University School of Milwaukee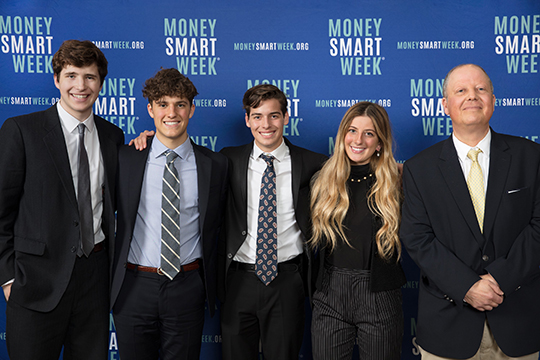 Finalist Team:
Nicolet High School – Glendale, WI
2018 Competition Results
Winning team: St. Joseph's High School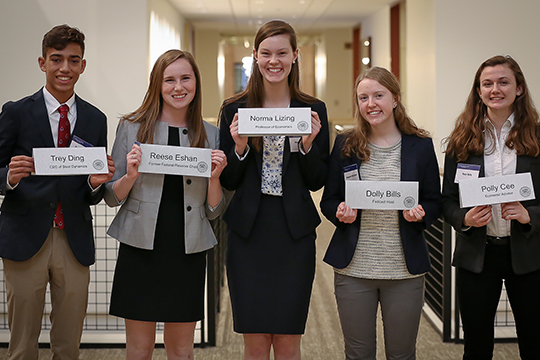 Two Finalist Teams:
Okemos High School – Okemos, Michigan
William Fremd High School – Palatine, Illinois
How does the Fed Challenge Work?