Eighth Annual Automotive Outlook Symposium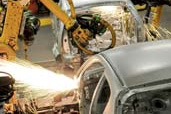 The eighth annual Automotive Outlook Symposium was held at the Detroit branch on May 31–June 1, 2001, hosted its eighth annual Automotive Outlook Symposium at the Detroit Branch of the Chicago Fed. The day-and-a-half conference focused on the long- and short-term forces shaping the vehicle industry. The event included a presentation by Chicago Fed Senior Economist William Strauss who will give the consensus outlook from Symposium participants.
Thursday, 05/31/01
12:00 PM
Welcome
David&nbspAllardice
,
Senior Vice President and Branch Manager
,
Federal Reserve Bank of Chicago–Detroit Branch
Luncheon Speech: The Future of Hybrid Vehicles from an OEM Perspective
Laurence&nbspOswald
,
Vice President, Hybrid Electric Vehicle Platform Engineering
,
DaimlerChrysler
12:00 PM
Afternoon Sessions
Emerging Technologies That Are Shaping the Future: Are You Ready?
Moderator
Bob&nbspSchnorbus
,
Chief Economist and Director of Economic Analysis
,
J. D. Power and Associates
Meeting the Challenges of Hybrid Vehicle Technology from the Suppliers' Perspective
Bruce&nbspMoor
,
Energen Project Manager
,
Delphi Automotive Systems
What Consumers Expect from Hybrids
Thad&nbspMalesh
,
Director, Alternative Technologies Group
,
J. D. Power and Associates
A Wall Street Perspective on the Current and Future State of Hybrid Vehicle Technology
David&nbspGarrity
,
Vice President
,
Dresdner Kleinwort Benson
Forecasting Emerging Technologies in the Automotive Industry
Walter&nbspMcManus
,
Global Director of Forecasting Services
,
J. D. Power and Associates
Friday, 06/01/01
9:00 AM
Welcome
David&nbspAllardice
,
Senior Vice President and Branch Manager
,
Federal Reserve Bank of Chicago–Detroit Branch
9:00 AM
Morning Presentations
Consensus Economic Outlook
William&nbspStrauss
,
Senior Economist and Economic Advisor
,
Federal Reserve Bank of Chicago
Vehicle Sales Outlook — Big Three Perspective
Van&nbspJolissaint
,
Corporate Economist
,
DaimlerChrysler Corporation
Break
Heavy Truck Industry Outlook
Ken&nbspVieth
,
Co-principal
,
Americas Commercial Transportation Research Company
Supplier Perspective
James&nbspMeil
,
Chief Economist
,
Eaton Corporation
1:00 PM
Afternoon Presentations
The New Quality Revolution: Impacts on the Automotive Outlook
David&nbspMcKay
,
Director of Automotive Analysis
,
J. D. Power and Associates
The Dealers' Perspective
Paul&nbspTaylor
,
Chief Economist
,
National Automobile Dealers Association