Changing Financial Markets and Community Development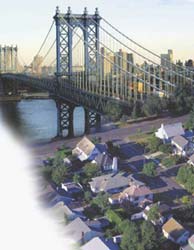 A Federal Reserve System Community Affairs Research Conference
Proceedings of a Conference
Held in Washington, D.C.
April 5-6, 2001
The Community Affairs Officers of the Federal Reserve System are pleased to present the proceedings of the Changing Financial Markets and Community Development conference, held April 5 and 6, 2001, in Washington, D.C. The proceedings include papers or summaries of the papers presented by distinguished economists and scholars from across the country. The papers are reviewed by conference discussants, who have extensive experience in the field. We are grateful to the authors and discussants for sharing their findings on an important aspect of our free enterprise system.

This research represents the latest work in the field from academia, policy institutions and the Federal Reserve System. The papers and the reviews offer fresh insight into new industry developments and products and how they and alternative service providers affect the delivery of services to the unbanked, techniques developed to increase accumulated wealth in low- and moderate-income populations and measures of how bank consolidation and CRA have affected the delivery and profitability of lending programs.

These proceedings are designed to further understanding of community development lending and credit issues among scholars, practitioners and policymakers. We hope that future conferences and publications like this one will further encourage ongoing research and discussion of these and other topics related to community economic development.
Editors
Jackson L. Blanton
Vice President and Community Affairs Officer
Federal Reserve Bank of Richmond
Alicia Williams
Vice President and Community Affairs Officer
Federal Reserve Bank of Chicago
Sherrie L. W. Rhine
Economist, Consumer Issues Research
Federal Reserve Bank of Chicago
Thursday, 04/05/01
Friday, 04/06/01