Tenth Annual Automotive Outlook Symposium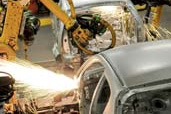 The Federal Reserve Bank of Chicago May 29-30, 2003, hosted its eleventh annual Automotive Outlook Symposium at the Detroit Branch of the Chicago Fed. The day-and-a-half conference focused on the long- and short-term forces shaping the vehicle industry.
The event included a presentation by Chicago Fed Senior Economist William Strauss who gave the consensus outlook from Symposium participants.
Thursday, 05/29/03
12:00 PM
Technology and Regulation: Meeting the Challenges of the Future
Co-sponsored by J. D. Power and Associates.
CAFE: A Solution in Search of a Problem—History, Economics, and Policy
Tom&nbspWalton
,
Director of Economic Policy
,
General Motors Corporation
Small Line Diesel Engines as Winning Commercial and Regulatory Strategy
Kevin&nbspMcMahon
,
Partner
,
The Martec Group, Inc.
Consumer Demand for Alternative Powertrain Vehicles
Walter&nbspMcManus
,
Executive Director of Global Forecasting Services
,
J. D. Power and Associates
Friday, 05/30/03
9:00 AM
Morning Presentations
Consensus Economic Outlook
William&nbspStrauss
,
Senior Economist and Economic Advisor
,
Federal Reserve Bank of Chicago
Heavy Truck Industry Outlook
Ken&nbspVieth
,
Co-principal
,
Americas Commercial Transportation Research Company
Sales Outlook from the Dealers' Perspective
Paul&nbspTaylor
,
Chief Economist
,
National Automobile Dealers Association
1:15 PM
Afternoon Presentations
Suppliers' Perspective
James&nbspMeil
,
Manager - Economic Analysis
,
Eaton Corporation
Used Vehicle Outlook
Tom&nbspKontos
,
Vice President, Industry Relations and Analytical Services
,
ADESA Corporation