Twentieth Economic Outlook Symposium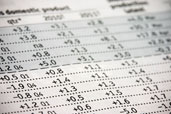 The Federal Reserve Bank of Chicago hosted its twentieth annual Economic Outlook Symposium on Friday, December 1, 2006. As the agenda indicates, we scheduled some very high caliber speakers to discuss the major sectors of the economy and make their forecasts on economic activity for 2006. Chief economists and senior executives from the banking, auto, steel, housing and machinery industries provided their perspectives. Chicago Fed Senior Economist William Strauss presented the consensus outlook from Symposium participants.
Friday, 12/01/06
9:00 AM
Welcome
Charles Evans
Director of Research and Senior Vice&nbspPresident
,
Federal Reserve Bank of Chicago
Consensus Outlook
William&nbspStrauss
,
Senior Economist and Economic Advisor
,
Federal Reserve Bank of Chicago
Banking/Consumer Outlook
Carl&nbspTannenbaum
,
Chief Economist and Director
,
Asset/Liability Management, LaSalle Bank/ABN AMRO
Vehicle Sales Outlook
Ellen&nbspHughes-Cromwick
,
Director and Chief Economist
,
Ford Motor Company
Steel Outlook
Robert J.&nbspDiCianni
,
Marketing Manager
,
Mittal Steel
12:00 PM
Lunch
The Great Turn-of-the-Century Housing Boom
Jonas D. M.&nbspFisher
,
Economic Advisor and Team Leader, Macroeconomics Group
,
Federal Reserve Bank of Chicago
Heavy Machinery Outlook
Donald&nbspJohnson
,
Chief Economist
,
Caterpillar Inc.