The Intersection of Midwest Agriculture and Rural Development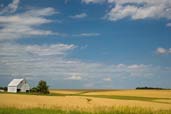 On November 9, 2010, the Federal Reserve Bank of Chicago held a conference to explore perspectives on the role that Midwest agriculture can play in rural development. A particular focus of the conference will be the entrepreneurial nature of agriculture and policies that can foster agricultural entrepreneurs. At the conference, experts from academia, industry and policy institutions will discuss the interplay between Midwest agriculture and rural development, especially the role of public policies. The goals of the conference include providing current information on the status of the rural Midwest; exploring the impacts of agricultural amenities and disamenities on rural areas; probing the reality about rural employment generated by agriculture and the bioeconomy; and discussing policy directions for agriculture and rural development that will propel the rural Midwest toward a brighter future. Check back in the near future for additional details including the agenda.
 Featured Speakers
Kathleen A. Merrigan
Deputy Secretary, U.S. Department of Agriculture
Kathleen A. Merrigan is the Deputy Secretary of the U.S. Department of Agriculture. Working alongside Secretary Tom Vilsack, Merrigan oversees the day-to-day operation of USDA's many programs and spearheads the $149 billion USDA budget process. She serves on the President's Management Council, working with other Cabinet Deputies to improve accountability and performance across the federal government.
Merrigan brings a wealth of knowledge to USDA from a decades-long career in policy, legislation, and research related to the many missions of USDA.
Deputy Secretary Merrigan has managed the Know Your Farmer, Know Your Food effort to highlight the critical connection between farmers and consumers and support local and regional food systems that increase economic opportunity in Rural America.
In November 2009, she made history as the first woman to chair the Ministerial Conference of the Food and Agriculture Organization (FAO) of the United Nations. Recognizing that most employees work outside of Washington, D.C., Merrigan has visited USDA field offices nationwide to ensure top-flight program delivery that meets constituents' needs.
Recognizing the history and scope of her work, Time magazine named Merrigan among the 100 Most Influential People in the World in 2010.
Mark Partridge
C. William Swank Chair of Rural-Urban Policy, Ohio State University
Mark Partridge is the C. William Swank Chair of Rural-Urban Policy at the Ohio State University and a professor in the Agricultural, Environment and Development Economics Department. He is also a faculty research affiliate, City-Region Studies Centre, University of Alberta. Prior to Ohio State, he was the Canada Research Chair in the New Rural Economy at the University of Saskatchewan, where he is an adjunct professor. Partridge has published over 100 academic and scholarly papers and his work has been ranked among the top 1,000 economists in the world. He has published in many journals such as the American Economic Review, Journal of Economic Geography, Journal of International Economics, Journal of Urban Economics and the Review of Economics and Statistics. He co-authored the book The Geography of American Poverty: Is there a Role for Place-Based Policy?, published by the W.E. Upjohn Institute. Partridge has received research funding from many sources including the Appalachian Regional Commission, Brookings Institution, European Commission, Infrastructure Canada, Lincoln Institute of Land Policy, U.S. National Science Foundation, U.S. National Oceanic and Atmospheric Administration and the Social Science and the Humanities Research Council of Canada.
Partridge's current research interests include investigating rural-urban interdependence, why some communities grow faster than others and innovations in regional policy and governance. Partridge served as president of the Southern Regional Science Association. He is co-editor of the Journal of Regional Science and is on the executive council of the Regional Science Association International. He is also on the editorial boards of Annals of Regional Science, Growth and Change, Review of Regional Studies and Region et Developpement. Partridge has consulted with Office of Economic Cooperation and Development, Federal Reserve Bank of Chicago and various governments in the U.S. and Canada, and he is currently working a project for the European Commission. He has presented to the U.S. Congress and the Canadian Parliament on regional issues. Partridge received his Ph.D. in economics from the University of Illinois at Urbana-Champaign.

Edward Feser
Professor and Head of Urban & Regional Planning and Professor of Agricultural and Consumer Economics, University of Illinois at Urbana-Champaign
 Edward Feser teaches courses in state and local economic development policy, regional development theory, urban and regional analysis and urban spatial structure. His research focuses on the forces influencing the growth, decline, economic adjustment and industrial restructuring of cities and regions. He has published work on technology-oriented economic development, theories of industry clustering, industry cluster analysis methods, agglomeration economies and industrial productivity, migration and regional economic distress, regional influences on process technology adoption in manufacturing and the improvement of data and spatial-analytical techniques for local development practice. Currently he is studying economic development policymaking processes and the role that universities can play in assisting states and regions undertake strategic economic development planning.
Feser's research has been supported by the National Science Foundation, the World Bank, the U.S. Economic Development Administration, the Appalachian Regional Commission and the German Marshall Fund of the United States, as well as multiple state and local agencies. He is involved in the development and operation of NEURUS—the Network for European-U.S. Regional and Urban Studies—a consortium of thirteen universities in the U.S., the Netherlands, Germany, Austria, Hungary, Sweden, Spain and Korea.
Feser taught at the University of North Carolina at Chapel Hill for seven years prior to coming to llinois in 2004. In 2003 he served as assistant secretary of the North Carolina Department of Commerce, where he acted as chief economist and senior policy advisor to the Secretary and directed the reorganization and expansion of the agency's Division of Policy, Research and Strategic Planning. He continues to work closely with state and local governments on issues related to his research and acts regularly as a consultant to the corporate sector, government, non-profit development agencies and economic development planning firms. He received his Ph.D. from the University of North Carolina at Chapel Hill.
Pete Eshelman
Chief Executive Officer, Joseph Decuis
 Upon graduation from Williams College, Pete Eshelman was drafted by the New York Yankees and began his business career in the Yankees' front office. Over the past 30 years, he founded two specialty sports insurances businesses that have since become part of public companies. Today, his passion is farming and producing the finest Wagyu beef in the world. He has a profound belief in the American Dream – anyone can achieve their dreams if they are willing to work hard for them. Now when he's "dressed for the office," he's not in a coat and tie, he's in jeans and boots. His favorite quote is: "There is no limit to the good a man can do if he doesn't care who gets the credit."
Tuesday, 11/09/10
8:00 AM
Registration and Continental Breakfast
9:00 AM
Welcome and Opening Remarks
David B&nbspOppedahl
,
Business Economist
,
Federal Reserve Bank of Chicago
9:15 AM
Session I: Rural America Today
Speakers
Mary&nbspAhearn
,
Senior Agricultural Economist, Economic Research Service
,
U.S. Department of Agriculture
Stephan J&nbspGoetz
,
Director, The Northeast Regional Center for Rural Development
,
and Professor, Agricultural and Regional Economics, Penn State University
10:30 AM
Session II: Agriculture and Employment in the Rural Midwest
Speakers
Edward&nbspFeser
,
Professor and Head of Urban and Regional Planning
,
and Professor of Agricultural and Consumer Economics, University of Illinois at Urbana-Champaign
David&nbspSwenson
,
Research Associate, Department of Economics
,
Iowa State University
Michael W&nbspSands
,
Executive Director, Liberty Prairie Foundation
,
and Environmental Team Leader, Prairie Crossing
12:00 PM
Luncheon and Keynote
Introduction
Daniel G&nbspSullivan
,
Executive Vice President and Director of Research
,
Federal Reserve Bank of Chicago
Speaker
Kathleen A&nbspMerrigan
,
Deputy Secretary
,
U.S. Department of Agriculture
1:15 PM
Session III: Impacts of Agricultural Amenities and Disamenities on Rural Areas
Speakers
Steven C&nbspDeller
,
Professor, Agricultural and Applied Economics
,
University of Wisconsin-Madison
Pete&nbspEshelman
,
Chief Executive Officer
,
Joseph Decuis
2:15 PM
Session IV: Panel Discussion: How Should Public Policy Intertwine Agriculture and Rural Development?
Moderator
William&nbspTesta
,
Vice President and Director of Regional Programs
,
Federal Reserve Bank of Chicago
Speakers
Mark&nbspPartridge
,
Professor and Swank Chair of Rural-Urban Policy, Department of Agricultural, Environmental and Development Economics
,
Ohio State University
David R&nbspTerrell
,
Deputy Chief of Staff, Lt. Governor Rebecca S. Skillman
,
and Executive Director, Indiana Office of Community and Rural Affairs
Curtis&nbspWiley
,
Chief of Staff, Business and Cooperative Programs, Rural Development Agency
,
U.S. Department of Agriculture
4:00 PM
Adjournment
Last Updated: 11/15/2010