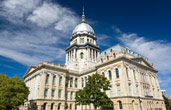 The conference is co-sponsored by the Federal Reserve Bank of Chicago and the Institute of Government and Public Affairs at the University of Illinois and is designed to investigate the implications of fiscal insolvency as manifested by structural budget imbalance and high levels of state and local debt on government operations and economic growth. The program will investigate models for improving budgeting transparency and accountability while examining strategies for unwinding existing obligations while minimizing economic fallout.
Join us on our
blog
before the conference. A
Chicago Fed Letter
is available
summarizing the event
.
Back To Top