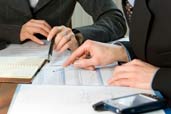 October 25-26, 2010
The Federal Reserve System and the Federal Deposit Insurance Corporation (FDIC) are co-hosting a two-day conference highlighting policy-oriented research focused on U.S. housing and mortgage markets. The conference will emphasize two major issues:  mortgage foreclosures and the future of housing finance.  We will evaluate the current foreclosure situation, emphasizing the adverse neighborhood spillover effects and evaluations of efforts to mitigate foreclosures including loan modification efforts. We will also take a broader perspective and evaluate the future of housing finance. This will include an evaluation of the mortgage interest tax deduction, affordable housing issues, the future role of government-sponsored entities, the future of private-label mortgage securitization, the viability and role of private mortgage insurance, and the role of the Community Reinvestment Act.
In addition to research sessions we will also have three special policy panels discussing The Future of Housing Finance, Mortgage Modification Issues and The Future of the Housing GSEs."
Information on conference presentations is available on the Conference Materials tab.
Back To Top