Mortgage Foreclosures and the Future of Housing Finance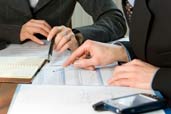 October 25-26, 2010
The Federal Reserve System and the Federal Deposit Insurance Corporation (FDIC) co-hosted a two-day conference highlighting policy-oriented research focused on U.S. housing and mortgage markets. The conference emphasized two major issues: mortgage foreclosures and the future of housing finance.  We evaluated the current foreclosure situation, emphasizing the adverse neighborhood spillover effects and evaluations of efforts to mitigate foreclosures including loan modification efforts. The conference took a broader perspective and evaluated the future of housing finance. This included an evaluation of the mortgage interest tax deduction, affordable housing issues, the future role of government-sponsored entities, the future of private-label mortgage securitization, the viability and role of private mortgage insurance, and the role of the Community Reinvestment Act.
In addition to research sessions there were three special policy panels discussing The Future of Housing Finance, Mortgage Modification Issues and The Future of the Housing GSEs."
Monday, 10/25/10
7:00 AM
Registration and Continental Breakfast
8:30 AM
Welcoming Remarks
Ben S&nbspBernanke
,
Chairman
,
Board of Governors of the Federal Reserve System
8:40 AM
Policy Panel: The Future of Housing Finance
Moderator
Daniel G&nbspSullivan
,
Executive Vice President and Director of Research
,
Federal Reserve Bank of Chicago
Panelists
David S&nbspScharfstein
,
Harvard Business School
Susan M&nbspWachter
,
University of Pennsylvania
Andrew&nbspDavidson
,
President
,
Andrew Davidson and Co., Inc.
Martin&nbspEakes
,
Chief Executive Officer
,
Center for Responsible Lending
Alex J&nbspPollock
,
American Enterprise Institute
10:20 AM
Policy Panel: Mortgage Modification Issues and Policy
Moderator
Seth&nbspWheeler
,
Former Senior Advisor
,
U.S. Department of the Treasury
Panelists
Paul S&nbspWillen
,
Federal Reserve Bank of Boston
Adam J&nbspLevitin
,
Georgetown University
Richard A&nbspBrown
,
Federal Deposit Insurance Corporation
Douglas A&nbspMcmanus
,
Freddie Mac
12:30 PM
Luncheon and Keynote
Speaker
Sheila C&nbspBair
,
Chairman
,
Federal Deposit Insurance Corporation
2:00 PM
Loan Renegotiation and Performance
Moderator and Discussant
Amit&nbspSeru
,
University Of Chicago
Sanjiv R&nbspDas
,
Santa Clara University
Strategic Loan Modification: An Options-Based Response to Strategic Default
Ray&nbspMeadows
,
Hult International Business School and the Recovery Company
Andra C&nbspGhent
,
Baruch College
Residential Mortgage Renegotiation during the Great Depression
Market-Based Loss Mitigation Practices for Troubled Mortgages Following the Financial Crisis
Sumit&nbspAgarwal
,
Federal Reserve Bank of Chicago
Gene&nbspAmromin
,
Federal Reserve Bank of Chicago
Itzhak&nbspBen-David
,
Ohio State University
Souphala&nbspChomsisengphet
,
Office of the Comptroller of the Currency
Douglas D&nbspEvanoff
,
Federal Reserve Bank of Chicago
4:05 PM
Mortgage Choice
Moderator and Discussant
Edward S&nbspPrescott
,
Federal Reserve Bank of Richmond
Gadi&nbspBarlevy
,
Federal Reserve Bank of Chicago
Mortgage Choices and Housing Speculation
Jonas D M&nbspFisher
,
Federal Reserve Bank of Chicago
Andreas&nbspFuster
,
Harvard University
$1.25 Trillion Is Still Real Money: Some Facts about the Effects of the Fed's Mortgage Market Investments
Paul S&nbspWillen
,
Federal Reserve Bank of Boston
Tuesday, 10/26/10
7:30 AM
Registration and Continental Breakfast
8:15 AM
Policy Panel: The Future of Housing GSEs
Moderator
Deborah J&nbspLucas
,
U.S. Congressional Budget Office and Massachusetts Institute of Technology
Panelists
Dwight&nbspJaffee
,
University of California-Berkeley
Wayne&nbspPassmore
,
Board of Governors of the Federal Reserve System
Michael H&nbspKrimminger
,
Federal Deposit Insurance Corporation
Philip L&nbspSwagel
,
Georgetown University
Larry&nbspCordell
,
Federal Reserve Bank of Philadelphia
10:35 AM
Secondary Mortgage Markets
Moderator and Discussant
Laurie S&nbspGoodman
,
Amherst Securities
Can Securitization Work? Economic, Structural and Policy Considerations
Timothy J&nbspRiddiough
,
University of Wisconsin – Madison
A Contrast of Ex Ante and Ex Post Relations in the Mortgage Market
Wei&nbspJiang
,
Columbia University
Ashlyn&nbspNelson
,
Indiana University
Edward&nbspVytlacil
,
Yale University
Adverse Selection in Mortgage Securitization
Sumit&nbspAgarwal
,
Federal Reserve Bank of Chicago
Yan&nbspChang
,
Freddie Mac
Abdullah&nbspYavas
,
University of Wisconsin
2:00 PM
Loan Renegotiation and Redefault
Moderator and Discussant
Brent W&nbspAmbrose
,
Pennsylvania State University
Foreclosure's Wake: The Credit Experiences of Individuals Following Foreclosure
Kenneth P&nbspBrevoort
,
Board of Governors of the Federal Reserve System
Cheryl R&nbspCooper
,
Urban Institute
Christopher&nbspMayer
,
Columbia Business School
Mortgage Modification and Strategic Default: Evidence from a Legal Settlement with Countrywide
Edward&nbspMorrison
,
Columbia Law School
Tomasz&nbspPiskorski
,
Columbia Business School
Arpit&nbspGupta
,
Columbia Law School
Neil&nbspBhutta
,
Board of Governors of the Federal Reserve System
The Depth of Negative Equity and Mortgage Default Decisions
Jane&nbspDokko
,
Board of Governors of the Federal Reserve System
Hui&nbspShan
,
Board of Governors of the Federal Reserve System
3:40 PM
Home Ownership Policies
Moderator and Discusant
Robert B&nbspAvery
,
Board of Governors of the Federal Reserve System
Affordable Housing Goals and Single-Family Mortgages Acquired by the GSFs
,
Federal Housing Finance Agency
Christian A&nbspHilber
,
London School of Economics
How Sensitive are Homeownership Decisions to Mortgage Interest Tax Subsidies
Tracy M&nbspTurner
,
Kansas State University
Elizabeth&nbspLaderman
,
Federal Reserve Bank of San Francisco
Constructive Credit: Revisiting the Performance of Community Reinvestment Act Lending during the Subprime Crisis
Caroline&nbspReid
,
Federal Reserve Bank of San Francisco