Rising Farmland Values: Causes and Cautions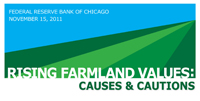 On November 15, 2011, the Federal Reserve Bank of Chicago held a conference that explored the factors contributing to large increases in agricultural land values and cash rental rates in the Midwest. Farmland values increased 16 percent from a year ago in the first quarter of 2011; 2011 cash rents for farmland increased 16 percent as well. At the conference, experts from academia, industry and policy institutions presented research on the causes of rapid increases in agricultural land values and cash rents, as well as their interrelationship. The goals of the conference included analyzing demographic and geographical characteristics of Midwest farmland ownership; understanding the dynamics of farmland valuations; assessing the risks facing agriculture and the banking industry from rising farmland values; and discussing policy implications for agricultural lending stemming from current farmland trends.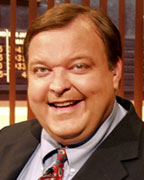 Mark Pearson
Host, Market to Market
Mark Pearson will take you on an entertaining journey – a look ahead at the outlook for farmland values. He'll explain where we are headed, and how commodity prices, global trends, consumer trends and other factors are contributing to the changes in land values.

Farmer, small businessman, stockbroker and raconteur, long-time Market To Market host Pearson has earned a national reputation for his agribusiness and rural issues acumen. A former Assistant Secretary of Agriculture for the State of Iowa, Pearson's long career in the media culminated with his being named host of Market To Market in 1991. Since then, Pearson has kept viewers informed as host of more than 600 editions of the "Weekly Journal of Rural America."

A retired officer in the Naval Reserve, Pearson lives on a farm in central Iowa, where he raises grain and livestock.

Tuesday, 11/15/11
8:00 AM
Registration and Continental Breakfast
9:00 AM
Welcome and Opening Remarks
David B&nbspOppedahl
,
Business Economist
,
Federal Reserve Bank of Chicago
9:30 AM
Session I: Midwest Farmland Geography and Demography
Jennifer&nbspIfft
,
Agricultural Economist
,
U.S. Department of Agriculture
Mike&nbspDuffy
,
Professor of Economics and Director of the Beginning Farmer Center
,
Iowa State University
10:45 AM
Session II: Perspectives on Agricultural Land Value Trends
Brent&nbspGloy
,
Associate Professor
,
Purdue University
Perry&nbspVieth
,
President
,
Ceres Partners
12:00 PM
Lunch and Keynote: What's Ahead for Agricultural Land Values?
Introduction
Daniel G&nbspSullivan
,
Executive Vice President and Director of Research
,
Federal Reserve Bank of Chicago
Speaker
Mark&nbspPearson
,
Host
,
Market to Market
1:15 PM
Session III: Risks Facing Farmland Markets
Bruce J&nbspSherrick
,
Professor
,
University of Illinois at Urbana-Champaign
Jaclyn&nbspKropp
,
Assistant Professor
,
Clemson University
2:30 PM
Session IV: Panel Discussion on the Implications of Current Farmland Trends for Agricultural Lending
Moderator
Mark&nbspPearson
,
Host
,
Market to Market
Panelists
Leland A&nbspStrom
,
Chairman and Chief Executive Officer
,
Farm Credit Administration
Jeffrey A&nbspJensen
,
Assistant Vice President, Supervision and Regulation
,
Federal Reserve Bank of Chicago
Kim D&nbspGreenland
,
Market President
,
Great Western Bank
4:00 PM
Adjournment
Last Updated: 10/11/2011