2011 Midwest Interagency CRA Training Workshops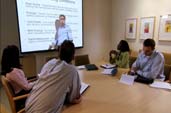 The Federal Reserve Banks of Chicago, Minneapolis and Saint Louis, the Office of Thrift Supervision (OTC), the Office of the Comptroller of the Currency (OCC) and the Federal Deposit Insurance Corporation (FDIC) co-sponsored one or more interagency Community Reinvestment Act (CRA) Workshops taking place in the first and second quarters of 2011 in cities across the Midwest: Chicago, Illinois, Thursday, January 27, 2011; Saint Louis, Missouri, Thursday, March 10, 2011; Madison, Wisconsin, TBD, Spring of 2011.
The purpose of each workshop was to provide CRA officers of small or intermediate banks/thrifts with an overview of CRA compliance reporting and exam preparation; up-to-date information about developing a CRA plan; forming meaningful community development partnerships; determining qualified community development lending, service and investment activity; assessing community needs; and creating a bank's individual CRA performance context.
Monday, 11/17/14
8:00 AM
Registration/Continental Breakfast
8:40 AM
The Exam Process – Are You Ready?
Georgia&nbspChisolm
,
Regional Assistant Director Compliance
,
Office of Thrift Supervision
View Bio
8:55 AM
CRA Basics
Steve R&nbspMurphy
,
Regional Review Examiner
,
Federal Deposit Insurance Corporation
View Bio
10:00 AM
Know Your Performance Context & Community Outreach Exercise
Jeremiah&nbspBoyle
,
Managing Director - Economic Development
,
Federal Reserve Bank of Chicago
View Bio
10:35 AM
Assessing Your Lending Performance
Michelle A&nbspJohanpeter
,
National Bank Examiner
,
Office of the Comptroller of the Currency
View Bio
12:30 PM
Defining Community Development & Case Study
Thomas&nbspBamford
,
Risk Management Specialist
,
Federal Reserve Bank of Chicago
View Bio
2:15 PM
Designing Your CRA Strategy & Case Study
Paul&nbspGinger
,
District Community Affairs Officer
,
Office of the Comptroller of the Currency
View Bio
3:25 PM
The CRA Tool Kit
Glenn Brewer & Brenda&nbspTharpe
,
Community Affairs Specialists
,
Federal Deposit Insurance Corporation
View Bio
3:55 PM
General Session Closing Remarks
Angelisa&nbspHarris
,
Community Affairs Officer
,
Federal Deposit Insurance Corporation
View Bio
4:15 PM
Optional Large Institution CRA Open Discussion
&nbsp
Last Updated: 1/28/2011