Community Bankers Symposium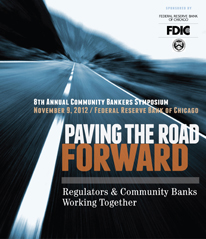 Paving the Road Forward: Regulators and Community Banks Working Together
The Eighth Annual Community Bankers Symposium hosted by the Federal Reserve Bank of Chicago, the Federal Deposit Insurance Corporation (FDIC) and the Office of the Comptroller of the Currency on Friday, November 9, 2012.
The confirmed speakers include Charles L. Evans, President and Chief Executive Officer, Federal Reserve Bank of Chicago, Thomas J. Curry, Comptroller of the Currency and Carl R. Tannenbaum, Chief Economist, Northern Trust Company, Governor Elizabeth A. Duke, Federal Reserve System, joined the event as a keynote speaker.
The conferencenconsisted of presentations on current industry developments and key bank supervision issues. The conference provided an opportunity for attendees to have a dialogue on areas of supervisory focus, the banking environment and regulatory updates.
Friday, 11/09/12
8:15 AM
Welcome
Bert A&nbspOtto
,
Deputy Comptroller
,
Office of the Comptroller of the Currency
8:20 AM
Opening Remarks
Charles L&nbspEvans
,
President and Chief Executive Officer
,
Federal Reserve Bank of Chicago
8:45 AM
Consumer Financial Protection Bureau
Steven L&nbspAntonakes
,
Associate Director of Supervision, Enforcement and Fair Lending
,
Consumer Financial Protection Bureau
9:30 AM
Federal Reserve: View from the Board of Governors
Elizabeth A&nbspDuke
,
Governor
,
Board of Governors of the Federal Reserve System
11:00 AM
Economic and Banking Conditions
Carl R&nbspTannenbaum
,
Chief Economist
,
Northern Trust Company
12:30 PM
Luncheon Keynote Speaker
Thomas J&nbspCurry
,
Comptroller of the Currency
1:30 PM
Bankers Panel: Management Succession and How to Build a Sound Banking Strategy in Today's Environment
Moderator
Blake&nbspPaulson
,
Associate Deputy Comptroller
,
Office of the Comptroller of the Currency
Panelists
Dan&nbspEversole
,
Senior Vice President
,
Isabella Bank, Mt. Pleasant, MI
David A&nbspDykstra
,
Senior Executive Vice President and Chief Operating Officer
,
Wintrust Financial, Rosemont, IL
James G&nbspHiatt
,
President
,
First State Bank, Middlebury, IN
John K&nbspSchmidt
,
Executive Vice President and Chief Financial Officer
,
Heartland Financial USA, Dubuque, IA
3:00 PM
Closing Remarks
Cathy&nbspLemieux
,
Executive Vice President
,
Federal Reserve Bank of Chicago