Community Bankers Symposium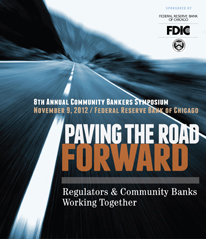 Paving the Road Forward: Regulators and Community Banks Working Together
We are pleased to announce the Eighth Annual Community Bankers Symposium hosted by the Federal Reserve Bank of Chicago, the Federal Deposit Insurance Corporation (FDIC) and the Office of the Comptroller of the Currency on Friday, November 9, 2012.
This year's confirmed speakers include Charles L. Evans, President and Chief Executive Officer, Federal Reserve Bank of Chicago, Thomas J. Curry, Comptroller of the Currency and Carl R. Tannenbaum, Chief Economist, Northern Trust Company, and we are very pleased to have Governor Elizabeth A. Duke, Federal Reserve System, join this year's event as a keynote speaker.
The conference will consist of presentations on current industry developments and key bank supervision issues. The conference will provide an opportunity for attendees to have a dialogue on areas of supervisory focus, the banking environment and regulatory updates.
Audience
Executive officers and directors of Seventh District community banks, bank holding companies, thrifts, savings and loans, banking trade associations and regulatory agencies.
Additional Information
Important information about the program agenda, speakers and other details can be found at this site. Attendees should check this website frequently to obtain updated information once they register. Please contact Charmaine Cerveny via email or at (312) 322-5566 or Robert Millerick via email or at (312) 322-6006.
Please Note
This event is by invitation only.
Friday, 11/09/12
8:15 AM
Welcome
Bert A&nbspOtto
,
Deputy Comptroller
,
Office of the Comptroller of the Currency
8:20 AM
Opening Remarks
Charles L&nbspEvans
,
President and Chief Executive Officer
,
Federal Reserve Bank of Chicago
8:45 AM
Consumer Financial Protection Bureau
Steven L&nbspAntonakes
,
Associate Director of Supervision, Enforcement and Fair Lending
,
Consumer Financial Protection Bureau
9:30 AM
Federal Reserve: View from the Board of Governors
Elizabeth A&nbspDuke
,
Governor
,
Board of Governors of the Federal Reserve System
11:00 AM
Economic and Banking Conditions
Carl R&nbspTannenbaum
,
Chief Economist
,
Northern Trust Company
12:30 PM
Luncheon Keynote Speaker
Thomas J&nbspCurry
,
Comptroller of the Currency
1:30 PM
Bankers Panel: Management Succession and How to Build a Sound Banking Strategy in Today's Environment
Moderator
Blake&nbspPaulson
,
Associate Deputy Comptroller
,
Office of the Comptroller of the Currency
Panelists
Dan&nbspEversole
,
Senior Vice President
,
Isabella Bank, Mt. Pleasant, MI
David A&nbspDykstra
,
Senior Executive Vice President and Chief Operating Officer
,
Wintrust Financial, Rosemont, IL
James G&nbspHiatt
,
President
,
First State Bank, Middlebury, IN
John K&nbspSchmidt
,
Executive Vice President and Chief Financial Officer
,
Heartland Financial USA, Dubuque, IA
3:00 PM
Closing Remarks
Cathy&nbspLemieux
,
Executive Vice President
,
Federal Reserve Bank of Chicago
Area Hotels and Information
JW Marriott
151 W. Adams
Chicago, IL 60603
(312) 660-8200
Club Quarters Central Loop
111 W. Adams Street
Chicago, IL 60603
(312) 214-6400
Omni Chicago Hotel
676 N. Michigan Avenue
Chicago, IL 60611
(312) 944-6664
Renaissance Chicago Downtown
1 W. Wacker Drive
Chicago, IL 60601
(312) 372-7200
Marriott Chicago Downtown Magnificent Mile
540 N. Michigan Avenue
Chicago, IL 60611
(312) 836-0100
Hilton Chicago
720 S. Michigan Avenue
Chicago, IL 60605
(312) 922-4400
Hilton Palmer House
17 E. Monroe Street
Chicago, IL 60603
(312) 726-7500
Union League Club
65 W. Jackson Boulevard
Chicago, IL 60604
(312) 427-7800