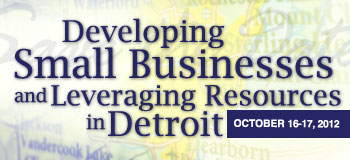 Please join the Federal Reserve Bank of Chicago, the Michigan Bankers Association and the New Economy Initiative for Southeast Michigan at a symposium to address the issues of small business credit and financing in the city of Detroit.

With the loss of manufacturing jobs in Detroit, some of Detroit's most prominent institutions have pursued an array of activities to attract and promote businesses and entrepreneurship. Foundations, universities, corporations and nonprofits are among the many entities that have embraced small business development as key to economic stabilization and growth.

At this symposium, bankers, funders, researchers, regulators and business owners will debate the economic, financial and regulatory issues that affect the supply of and demand for bank credit for small businesses. Sessions will focus on community investment and compliance obligations, local practices to assist small business owners, and the opportunities for leveraging bank and non-bank resources to finance small businesses. The symposium will also feature a multi-year study conducted by staff of the Community Development and Policy Studies Department of the Federal Reserve Bank of Chicago on the changing financial landscape of the city of Detroit, focusing on credit demand and availability for small businesses.
To download the agenda as an interactive PDF for PC and iPad, click the Agenda tab. The standard PDF is also available for Kindle.
Back To Top