Annual Agriculture Conference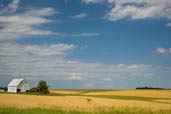 Taming Agricultural Risks
Tuesday, November 19, 2013
On November 19, 2013, the Federal Reserve Bank of Chicago will hold a conference to explore the risks faced by agricultural producers and lenders, as well as the risk-management tools available to them. From the weather to crop markets, risks abound in agriculture. Some agricultural risks may be more difficult to manage than others, but they all need to be identified, analyzed, and mitigated (or accepted) subject to the investment objectives and the risk tolerance of the participants.
At the conference, experts from academia, industry and policy institutions will examine key risks facing agriculture and discuss managing these risks in today's volatile environment. The goals of the conference include identifying the most challenging risks facing the agricultural sector; understanding the characteristics and patterns of these primary risks; assessing various risk-management tools and strategies; and examining the impacts of various risk-management approaches on policies for farming and agricultural lending.
Visit this site, as more detailed information, including the agenda, will be posted. Early bird registration is now closed. From September 10 to November 14, fee will be $100.