Sixteenth Annual International Banking Conference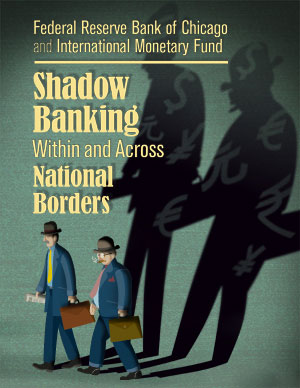 November 7–8, 2013
In collaboration with the International Monetary Fund, the Federal Reserve Bank of Chicago will hold its sixteenth annual International Banking Conference on November 7–8, 2013, at the Bank. The purpose of the annual conference is to address current issues affecting international financial markets. This year, we will examine the implications of "shadow banking," a phenomenon which has become widespread internationally.
The shadow banking system has received increasing attention in recent years as a rapidly growing, lightly regulated complex of financial markets and institutions that operates in parallel with the formal banking sector and has grown to match or exceed it in size in some markets. It also has been identified as having a significant role in the recent financial crisis both in the United States and abroad. Yet, surprisingly little is known about its scope and operations. Nevertheless, many proposals have been developed for "taming" the shadow banking system and are currently under consideration by policymakers, financial regulators, financial practitioners, researchers and academics worldwide.
Analyzing these developments and proposals will be the focus of discussion over the two-day conference. More specifically, the topics considered include identifying the key players and measuring the size of the shadow system; evaluating why and how the system developed; quantifying how the system has expanded within and across countries; considering the implications for financial stability; addressing the challenges for traditional financial institutions and markets, and for supervision and regulation; evaluating the cross-border implications; and discussing how financial sector policy should be adjusted going forward.
These topics and more will be discussed by international experts in each area from different professions and countries. The three keynote speakers have each made significant intellectual and regulatory contributions in response to the financial events of recent years. They are:
Gary Gorton, Professor, Yale University
Jeremy Stein, Member, Board of Governors of the Federal Reserve System
Adair Turner, Senior Fellow, Institute for New Economic Thinking.
We hope that you can join us in this important and exciting conference to shed much needed light on the shadow banking system to achieve a better understanding of its strengths and weaknesses. Additional information, including registration information, local accommodations and the full program can be found at the above links on this page. For additional information contact Sandy Schneider, or members of the program committee.
Registration Fees: There is an early-bird fee of $650 for those who register on or before October 18, 2013. For those registering between October 19, 2013, and November 6, 2013, the fee will be $700. Registration is closed as of end of day, November 6, 2013.
Program Committee
Stijn Claessens, International Monetary Fund
Douglas D. Evanoff, Federal Reserve Bank of Chicago
George G. Kaufman, Loyola University Chicago
Luc Laeven, International Monetary Fund