Wisconsin Economic Development Forum: Manufacturing Better Opportunity & A Stronger Economy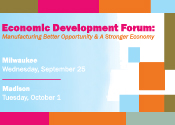 Please join us for two Economic Development Forums on Workforce Development. The first forum will be held in Milwaukee, Wisconsin, on Wednesday, September 25, 2013, at The University Of Wisconsin Milwaukee's School of Continuing Education, Grand Avenue Mall location. The second forum will be held in Madison, Wisconsin, on Tuesday, October 1, at the Fluno Center's Skyview Room. Both sessions will be a working lunch from 11:30 AM to 1:30 PM. There is no charge and a buffet lunch will be provided.
Each event begins with a Federal Reserve economist providing an update on the current state of the economy, followed by a panel discussion on workforce development comprised of industry and policy leaders discussing practice, opportunities, and policies to build a stronger manufacturing sector. The Milwaukee event will focus on local initiatives, practice, and policies. The Madison event will focus more on state policy options to support skills and opportunity.
Central to the discussion will be programs that the Wisconsin Regional Training Partnership (WRTP) has built over the past year that work with their partners from community, business and labor. This experience is relevant to strengthening the manufacturing sector, to building and broadening opportunity, and to developing public policies at the state and local level that help secure that connection.