Annual Agriculture Conference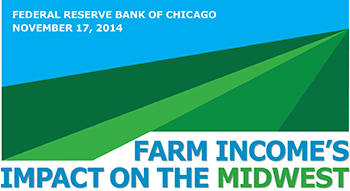 On November 17, 2014, the Federal Reserve Bank of Chicago held a conference to examine the role of farm income in the Midwest economy. While farm income has long been an important driver of midwestern economic activity, its influence had been waning until the boom in crop prices of the past decade. Moreover, this expansion of agricultural income contrasted sharply with the troubled fortunes of the broader economy of the Midwest during and after the Great Recession.
At the conference, experts from academia, industry, and policy institutions will discuss farm income trends and their interplay with the regional economy. The goals of the conference include understanding key components of farm income; assessing the primary economic drivers for the agricultural sector; examining policies that affect farm income; farm income's linkages to agricultural lending; and discussing the influence of farm income on the midwestern economy, especially on rural communities.
Monday, 11/17/14
8:00 AM
Registration and Continental Breakfast
9:00 AM
Welcome and Opening Remarks
Charles L.&nbspEvans
,
President and Chief Executive Officer
,
Federal Reserve Bank of Chicago
9:15 AM
Session 1: Components of Farm Income
Todd H.&nbspKuethe
,
Clinical Assistant Professor
,
University of Illinois at Urbana-Champaign
Chris&nbspHurt
,
Professor of Agricultural Economics
,
Purdue University
10:45 AM
Session 2: Policies Affecting Farm Income
Joseph W.&nbspGlauber
,
Chief Economist
,
U.S. Department of Agriculture
Mary&nbspAhearn
,
Co-editor, Choices, and Senior Economist, Economic Research Service
,
U.S. Department of Agriculture (Retired)
12:00 PM
Lunch
Introduction
William&nbspTesta
,
Vice President, Regional Programs, Economic Research
,
Federal Reserve Bank of Chicago
Keynote
The Honorable Jill Long&nbspThompson
,
Board Chair and Chief Executive Officer
,
Farm Credit Administration
1:30 PM
Session 3: Panel Discussion – How Does Farm Income Influence the Midwest Economy?
Moderator
David B.&nbspOppedahl
,
Senior Business Economist
,
Federal Reserve Bank of Chicago
Panelists
Mark&nbspPartridge
,
Professor, C. William Swank Chair in Rural-Urban Policy
,
Ohio State University
Steven C.&nbspDeller
,
Professor
,
University of Wisconsin-Madison
Abram&nbspTubbs
,
Chairman and Chief Executive Officer
,
Ohnward Bank and Trust