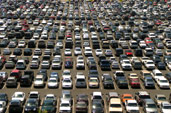 On May 30, the Federal Reserve Bank of Chicago will host the Twenty-First Annual Automotive Outlook Symposium at the Federal Reserve Bank of Chicago's Detroit Branch. Topics include the near-term automotive outlook and a discussion of EY's Automotive C-Suite's survey results.
The National Association for Business Economics (NABE) will be holding its Third Annual Industry Conference this year before our 21st Annual Automotive Outlook Symposium, focusing on the auto industry. Additional information about that event is available online.
A press release for the Chicago Fed symposium is available.

Back To Top