APPG Presents the Ninth Annual Business Leaders of Color Panel Discussion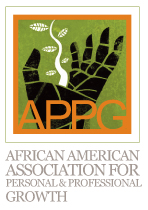 The African American Association for Personal and Professional Growth (APPG) presents the Ninth Annual Business Leaders of Color panel discussion and networking reception on Wednesday, November 16, 2016, at 5:00 pm. The theme for this year's event is "Inside the Black Bank: Minority Banking Matters." During the discussion, attendees will have the opportunity to interact with dynamic business leaders in the Chicagoland area who participate on — as well as chair — corporate boards, energize organizations and communities and help promote the next generation of leaders. Each panelist offers a unique perspective and serves as both an example and an inspiration through cultural, civic and educational contributions. Join us as panelists share personal insights, advice, and success strategies. Discussion topics will include the importance of minority owned financial institutions, economic development in emerging urban markets and barriers to capital access for minority owned businesses.
The event will take place in the Michael Moskow Auditorium in the Federal Reserve Bank of Chicago, with registration starting at 4:30 pm.
4:30 - 5:00PM Check in
5:00 - 5:30PM Welcome reception
5:30 - 7:00PM Panel discussion
7:00 - 8:00PM Networking