Fourth Annual Summit on Regional Competitiveness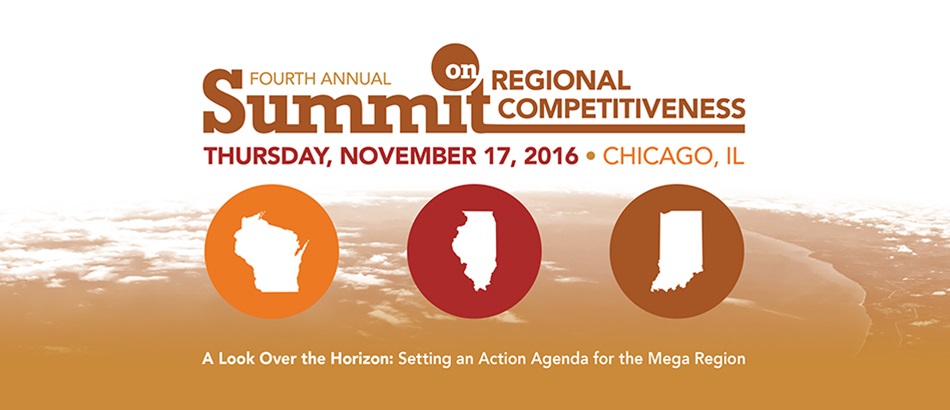 Fourth Annual Summit on Regional Competitiveness
A growing number of civic leaders recognize the importance of addressing our complex economic and social challenges through greater regional collaboration. Throughout 2016, the Alliance for Regional Development has been hosting "Quarterly Conversations" on topics critical to the mega region, as stepping stones toward this Summit. In November, America will have just elected its 45th president and the dialogue from this event, as well as the Quarterly Conversations, are expected to produce insights for a master development plan providing a specific set of proven or promising policy and programmatic recommendations. These insights can be tremendously valuable for businesses, nonprofits and governments that adopt collaboration as a way to strengthen economic opportunity and prosperity.
This high-profile, one-day event will focus the region's narrative as a center for excellence in transportation, water, workforce, advanced manufacturing, and innovation, with a series of panels and keynote speeches including:
Federal Government Region V leaders discussing Department priorities and grant opportunities
The effects of e-commerce from the perspectives of business, government and real estate
Deborah Wince-Smith, president and chief executive officer, Council on Competitiveness, works in our nation's capital to increase the United States' economic competitiveness in the global marketplace. She will be discussing how our mega region is a driver in the nation's economy.
This is an invitation only event.
For information on how to be added to the guest list, please contact Kelly O'Brien, president of the Alliance for Regional Development, at kobrien@alliancerd.org.
More Information