Economic Development Forum: Investing in Wisconsin's Young Children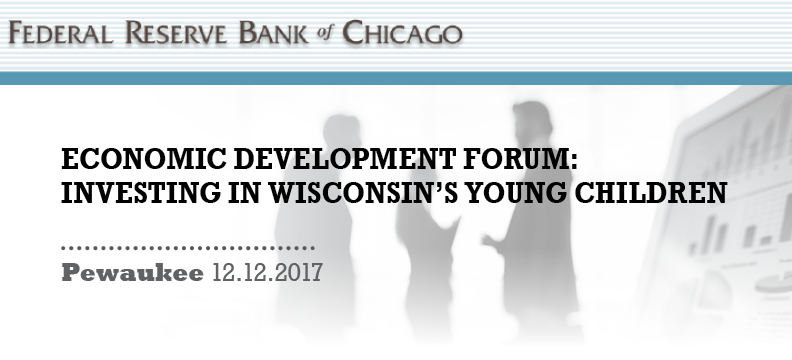 Please join us for the Economic Development Forum, "Investing in Wisconsin's Young Children," on Tuesday, December 12, 2017. This forum will feature:
Rob Grunewald, economist, Federal Reserve Bank of Minneapolis


Michael Jahr, vice president of outreach and special projects, Wisconsin Policy Research Institute



Joaquin Altoro, vice president of commercial lending, Town Bank




Dennis Winters, chief economist, Wisconsin Department of Workforce Development
Well-focused investments in early childhood development can yield annual inflation-adjusted returns as high as 16 percent. Taxpayers benefit through reduced need for social assistance, increase income tax revenue, less burden on the criminal justice system and fewer children needing remedial education services. Furthermore, a high-quality child care industry is essential for parents to enter the workforce and achieve higher levels of productivity at their jobs.
The forum will discuss how public and private investments in young children have implications for business regarding workforce development and bankers through CRA lending. Speakers will highlight results from the Wisconsin Policy Research Institute's recent paper, "Rating YoungStar," which provides an analysis of the state's child care quality rating and improvement system. Further, banker perspective will be provided on promoting economic development by financing community or tribal-based child care targeted to low- or moderate-income persons.