Tools toward Market Restoration: Where Growth and Opportunity Converge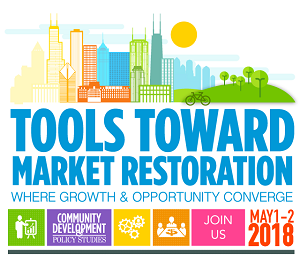 Please join the Federal Reserve Bank of Chicago and the American Bankers Association for a conversation about places experiencing chronic market failure that was, in some cases, exacerbated by the Great Recession.
Tools toward Market Restoration: Where Growth and Opportunity Converge will delve into how policies and practices impact place-based inequality. The conference will:
Share new insights to support equitable growth;
Understand 'success' in the context of re-emerging markets; and
Explore factors needed to achieve inclusive growth.
We will discuss the concept that "growth is not enough" in the context(s) of housing, employment, and capital. The conference will pair policy experts with leading practitioners who will share knowledge derived from current research, innovative programs, and interventions.
Register Now
Tuesday, 05/01/18
11:00 AM
Welcome
Speakers
Alicia&nbspWilliams
,
Vice President, Community Development and Policy Studies and Community Development Officer
,
Federal Reserve Bank of Chicago
Krista&nbspShonk
,
Vice President, Regulatory Compliance Policy
,
American Bankers Association
11:30 AM
Opening Plenary Speaker
In this groundbreaking history of the modern American metropolis, Richard Rothstein, a leading authority on housing policy, explores the myth that America's cities came to be racially divided through de facto segregation―that is, through individual prejudices, income differences, or the actions of private institutions like banks and real estate agencies. Rather, The Color of Law incontrovertibly makes clear that it was de jure segregation―the laws and policy decisions passed by local, state, and federal governments―that actually promoted the discriminatory patterns that continue to this day." Copies of The Color of Law will be provided to all attendees
Introduction of Plenary Speaker
Sheilah&nbspClay
,
President and CEO
,
Neighborhood Service Organization
Opening Plenary Speaker
Richard&nbspRothstein
,
Author, The Color of Law: A forgotten history of how our government segregated America
,
Federal Reserve Bank of Chicago
12:15 PM
Opening Session
Policy relating to housing, employment, and access to capital has lasting consequences. Our understanding of the enduring effects of decades-old policies continues to evolve. This opening session will explore the powerful impact of federal policy on shaping the urban landscape and the lives of residents.
Research: The Effects of the 1930s HOLC "Redlining" Maps (Working Paper)
Abstract: In the wake of the Great Depression, the Federal government created new institutions such as the Home Owners' Loan Corporation (HOLC) to stabilize housing markets. As part of that effort, the HOLC created residential security maps for over 200 cities to grade the riskiness of lending to neighborhoods. We trace out the effects of these maps over the course of the 20th and into the early 21st century by linking geocoded HOLC maps to both Census and modern credit bureau data. Our analysis looks at the difference in outcomes between residents living on a lower graded side versus a higher graded side of an HOLC boundary within highly close proximity to one another. We compare these differences to "counterfactual" boundaries using propensity score and other weighting procedures. In addition, we exploit borders that are least likely to have been endogenously drawn. We find that areas which were the lower graded side of HOLC boundaries in the 1930s experienced a marked increase in racial segregation in subsequent decades that peaked around 1970 before beginning to decline. We also find evidence of a long-run decline in home ownership, house values, and credit scores along the lower graded side of HOLC borders that persists today. We document similar long-run patterns among both "redlined" and non-redlined neighborhoods and, in some important outcomes, show larger and more lasting effects among the latter. Our results provide strongly suggestive evidence that the HOLC maps had a causal and persistent effect on the development of neighborhoods through credit access.
Panelists
Benjamin &nbspKennedy
,
Managing Director, American Cities Practice
,
Kresege Foundation
Alford&nbspYoung
,
Arthur F. Thurnau Professor, Department of Sociology and Department of Afroamerican and African Studies; Chair, Department of Sociology
,
University of Michigan
Presenter
Daniel&nbspHartley
,
Policy Economist
,
Federal Reserve Bank of Chicago
2:00 PM
Panel Topic #1: Housing
A stalled single-family mortgage market requires a multi-faceted intervention targeting both supply and demand factors. However, financing products for low-value, difficult-to-appraise properties are often missing. Emerging research focuses on the critical role of small-dollar mortgage loans and the consequences of the lack of a functional market, such as land contracting. Panelists will respond to research with innovations from the field.
Research: Small Dollar Housing Credit for Affordable Single-Family Residential Properties
Across the country, there is a clear lack of financing for small balance homes, which we define and homes valued under $70,000. Although these homes make up a significant share of the housing stock in both urban and rural communities across the county, these home sales are rarely financed by a mortgage. Credit for small dollar purchases is hard to come by, and has become even harder in recent years. Our research presents a wealth of information on borrower characteristics, loan characteristics and production channels, and the geographic distribution of low balance homes. Through this detailed analysis, we determine that expansion of small dollar housing credit, or SDHC, can put homeownership within reach for much of the lower income population across the US.
Moderator
Taz&nbspGeorge
,
Research Analyst, Community Development and Policy Studies
,
Federal Reserve Bank of Chicago
Panelists
Alanna&nbspMcCargo
,
Vice President, Housing Finance Policy Center
,
Urban Institute
Byna&nbspElliott
,
Director of Community and Economic Development
,
Fifth Third Bank
Jim&nbspGray
,
Program Manager, Duty to Serve Program
,
Federal Housing Finance
Research Presenter
Alanna&nbspMcCargo
,
Vice President, Housing Finance Policy Center
,
Urban Institute
3:30 PM
Panel Topic #2: Employment – Motivating Inclusive Job Creation
Attracting corporations into the central business district is a strategy often aimed at attracting highly educated, young(er) workers. It is a strategy that frequently comes with a high price tag of incentives and subsidies. How can such deals benefit existing residents ensuring that the benefits of job creation are distributed equitably? What are the policies that can enhance competitiveness?
Research: Meet the out-of-work: Local profiles of jobless adults and strategies to connect them to employment (https://www.brookings.edu/wp-content/uploads/2017/06/out-of-work_paper_final.pdf)
Moderator
Rick&nbspMattoon
,
Senior Economist and Economic Advisor
,
Federal Reserve Bank of Chicago
Panelists
Greg&nbspLeRoy
,
Executive Director
,
Good Jobs First
Martha&nbspRoss
,
Fellow
,
Brookings Institute
Research Presenter
Martha&nbspRoss
,
Fellow
,
Brookings Institute
Wednesday, 05/02/18
7:30 AM
Check-in and networking over coffee
8:30 AM
Media Panel
The media plays a vital role in shaping urban narratives and advancing thinking around what can and should be done to address place-based inequities. At the same time they are uniquely positioned to reflect on the impact of policies on people and places and expand the conversation. Panelists approach these issues from a variety of local and national perspectives.
Moderator
Aaron&nbspRenn
,
Senior Fellow
,
The Manhattan Institute
Panelists
Jerome&nbspVaughn
,
News Director and WDET Host
,
All Things Considered
Dustin&nbspWalsh
,
Senior Reporter
,
Crain's Detroit Business
John&nbspSchmid
,
Economics Reporter
,
Milwaukee Journal Sentinel
Pete&nbspSaunders
,
Urban Affairs Contributor
,
Forbes
10:30 AM
Panel Topic #3: The Future of Place-based Investing
Reversing the effects of policies to restrict capital into targeted areas has required decades of multi-faceted interventions. However, legacy barriers remain. Research will highlight recent findings; respondents will discuss what remains to be done.
Moderator
Garvester&nbspKelley
,
Community Development Director
,
Federal Reserve Bank of Chicago
Panelists
Jennifer&nbspDavis-Papa
,
Managing Director, Financial and Investor Services Division
,
Gingras Global
Aaron&nbspSeybert
,
Social Investment Officer, Social Investment Practice
,
Kresge Foundation
Tim&nbspFerguson
,
Founder and Chairman
,
NextStreet Capital
12:00 PM
Closing Plenary: Leadership Conversation
Equity: Is it a Lens or is it a Mirror? The definition of equity carries with it the notion of justness and fairness. But what is fair is not always equal. As a result, the notion of equity is complex and nuanced. This panel of elected leaders will describe efforts to bring equity to the populations they serve, and the role of policy, therein. The discussion will be anchored by a presentation of the Cost of Segregation in the context of Chicago.
Research: The Cost of Segregation (http://www.metroplanning.org/costofsegregation)
Moderator
Jeremiah P.&nbspBoyle
,
Assistant Vice President, Community Development and Policy Studies
,
Federal Reserve Bank of Chicago
Panelists
Alkeyna&nbspAldridge
,
Director of Engagement and Economic Empowerment, Department of Community Investment
,
City of South Bend
Adrienne&nbspHolloway
,
Chief Innovation Officer
,
City of Aurora
Research Presenter
Marisa&nbspNovara
,
Vice President
,
Metropolitan Planning Council