Chicago's Business Smart Week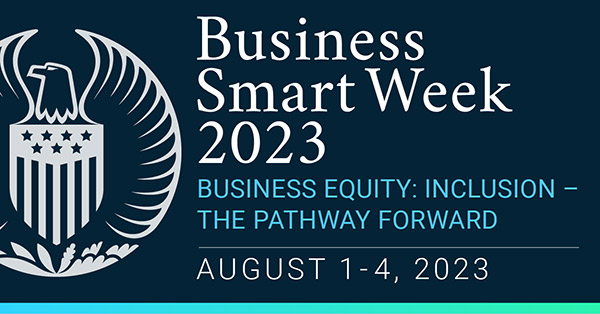 Tuesday, 08/01/23
9:10 AM
The State of Minority-Owned Businesses
9:30 AM
Facing and Managing Frontal Divides – Panel Discussion
10:30 AM
New Finding from Small Business Credit Survey (Small Business Aversion to Debt)
11:15 AM
Access to Sustainable Capital Resources – Panel Discussion
12:15 PM
Professional Services Business Connection and Exchange Luncheon
Financial Services Companies
Federal Reserve Bank of Chicago
Federal Reserve Bank of Atlanta
Northern Trust
Chase
Chicago United
CMSDC
LISC
Board of Governors
Aetna
BMO
Allstate
PNC
WBDC
Thursday, 08/03/23
9:15 AM
Facing and Managing Frontal Divides – Panel Discussion
10:30 AM
Understanding Access to Capital in Construction
11:00 AM
Construction Project Overviews
Construction
CTA Redline Initiative
McDonald's Accelerating the Arches 2.0 Initiative
Amtrak Initiatives
State of Illinois
Bally's Casino Project
Illinois American Water Line Initiative
HIRE 360 Developers
12:15 PM
Construction and New Emerging Market Business Connection and Exchange Luncheon
New Emerging Market Business
Exchange Luncheon
Obama Presidential Center
1:15 PM
Business Connection and Exchange
Friday, 08/04/23
9:00 AM
Welcome and Introduction
Remarks
Federal Reserve Bank of Chicago
Illinois Hispanic Chamber of Commerce
9:15 AM
Illinois Hispanic Chamber of Commerce Overview
Diversity Business
SBA Community Navigator Program Overview
IL PTAC / APEX Accelerator Program
10:00 AM
How Certification Can Boost Your Business
11:00 AM
Opportunity Awaits: Connecting with CPAs
Chicagos Business Smart Week
Business Smart Week featured top business diversity leaders and experts who provided diverse and small businesses with the tools and opportunities to grow their business.
This year's program featured discussions with prominent minority business owners, as well as corporate and non-profit CEOs, on solutions to eliminate barriers to diverse business growth.
The event also included the state of minority business, access to sustainable capital in the financial services and construction industries, initiatives of the Chicago Minority Supplier Development Council and the Women's Business Development Center, and the SBA Community Navigator Pilot Program. Participants attended business networking and matchmaking sessions to get information on contracting opportunities in such industries as financial services, professional services, construction and new emerging markets.