2021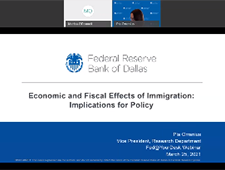 Pia Orrenius, Vice President and Senior Economist at the Federal Reserve Bank of Dallas, discusses the economic and fiscal impacts of immigration as it is poised to play a bigger role in labor force growth than it has in decades.
3/25/2021
Pia Orrenius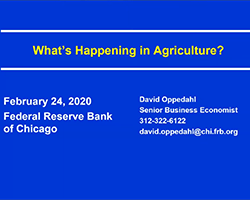 David Oppedahl, Senior Business Economist at the Chicago Fed, discusses the survey findings in this month's Ag Letter - including where farmland values stand, where they are predicted to move and the status of agricultural credit conditions including nominal interest rates and repayment status outlook.
2/24/2021
David Oppedahl
Chicago Fed Senior Business Economist Paul Traub provides an update on how the U.S. economy has been faring amidst the Covid-19 pandemic, a new Presidential administration and the start of the 117th Congress.
2/4/2021
Paul Traub
---
2020
---
2019
---
View webinars going back to 2017