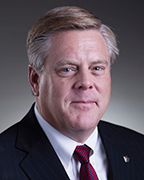 Brian K. Acton
President and Chief Executive Officer, BMWC Constructors, Inc.
Brian K. Acton is president and chief executive officer (CEO) of BMWC Constructors, Inc. He joined BMWC in 1985 after graduating from Purdue University. His first assignment as assistant project manager was at Amoco Oil Refinery in Whiting, IN, working out of the Lansing, IL, office. Acton was promoted to project manager in 1990 and managed maintenance and construction accounts for Amoco, Mobil, Exxon, Quantum Chemical and other industrial clients in the Chicago and Northwest Indiana regions until 1998. In 1998 BMWC purchased a construction company performing work in the microelectronics industry in Seattle, WA. Acton relocated to the west coast and was promoted to president and general manager of BMWC Constructors, Inc. While managing the Seattle office, he started an office in Portland, OR, in 1992 to better serve the high-tech clients. In 2009 he returned to Indianapolis and was elected as executive vice president of BMWC Constructors, Inc. In August 2010, he was elected president and chief operating officer of BMWC Constructors, Inc., and in February 2011, he was elected CEO.
Some of Acton's professional memberships include past chairman of MCAWW Board of Education; past member of Vistage International, Young Presidents Organization; Global One member and current member and chapter chair of WPO Indiana Chapter, Construction Users Roundtable; past president of The Indiana Alliance and current board member; past president of the Board of Directors of Christamore House; past member of the Advisory Board of Construction Engineering and Management at Purdue University; member of IIF CEO Forum and Director American Contractors Insurance Group. Acton received a B.S. in construction engineering and management and a C.C.L., Leadership Development Program, from Purdue University.