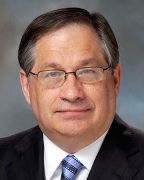 Michael E. Bannister
Director, Term: 2012-2014
Former Chairman and Chief Executive Officer
Ford Motor Credit Company
Detroit, Michigan
Michael E. Bannister retired in January 2013 as chairman and chief executive officer of Ford Motor Credit Company, a position to which he was named in 2004. He was also executive vice president of Ford Motor Company, elevated from group vice president in 2007.
Bannister was previously president and chief operating officer of Ford Credit, with responsibility for all sales and marketing functions, service centers, quality, customer satisfaction, process management and insurance operations. He has also served as president of Ford Credit International, where he led the company's operations in Asia Pacific, Europe and Latin America. Before that, he served as chairman, Ford Credit Europe.
Bannister joined Ford Credit in 1973 and has held a number of branch and regional management operating positions in North America. He also served as vice president of Marketing in North America, and executive director, European Sales Operations. Bannister is a member of the boards of directors of the following organizations: Federal Reserve Bank of Chicago's Detroit Branch; Council for Economic Education; YMCA of Metropolitan Detroit; and the Detroit Investment Fund Board, a Detroit Renaissance affiliate. He also serves as a trustee of the Community Foundation for Southeast Michigan, a philanthropic organization.
Bannister earned a bachelor's degree in business administration from Memphis State University, now the University of Memphis.