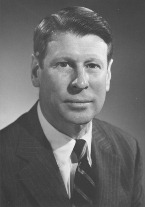 Silas Keehn
Seventh President
July 1, 1981 – September 1, 1994
Silas Keehn was the seventh president of the Federal Reserve Bank of Chicago, serving from July 1, 1981 to September 1, 1994.
Keehn joined Mellon Bank in 1957. While at Mellon, he held positions of increasing responsibility in the Credit Division, the International Department and the National Department prior to being appointed to the Bank's Executive Office. Before he became the head of Mellon's National Department, Keehn was responsible for the Middle Western Division, which covered an eight-state area and included the cities of Chicago, Des Moines, Detroit, Indianapolis and Milwaukee. Keehn left Mellon Bank in 1980 as vice chairman of Mellon National Corporation and Mellon Bank when he was named as the chairman of the board of directors at Pullman, Inc.
Keehn received a bachelor's degree in economics from Hamilton College in Clinton, New York and a master's in business administration from the Harvard University Graduate School of Business Administration.
Keehn has served on the boards of numerous civic and professional organizations. He is a charter trustee of Hamilton College, a past director of the United Way of Allegheny County, past chairman of the Eye and Ear Hospital of Pittsburgh, a member of the Board of Trustees of the University of Pittsburgh Health Center, and is a former member of the Association of Reserve City Bankers.
After retirement, Keehn became director of the Chicago Board Options Exchange and the National Futures Association. He also serves as Trustee/Director of Hamilton College. Keehn is a former director of Kewaunee Scientific Corp.
Chicago Fed Letter
Silas Keehn | 1991 | No. 50 | October
Download
Economic Perspectives
Silas Keehn | 1994 | Vol. 18 | No. 4 | July | 3rd Quarter
Download