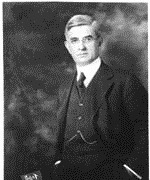 James B. McDougal
First Governor
October 23, 1914 – March 1, 1934
James B. McDougal was the first governor of the Federal Reserve Bank of Chicago serving from October 23, 1914, to March 1, 1934.
McDougal was born in Peoria, Illinois, in 1866. His first banking experience was with the Central National Bank and Trust Company of Peoria. After 14 years with that bank, he received an appointment as a national bank examiner with assignments to Kentucky, Pennsylvania and St. Louis. Through his broad acquaintance among bankers, he was introduced to James B. Forgan, who at the time was president of the First National Bank of Chicago, and chairman of the Clearing House Committee for the Chicago Clearing House Association. In 1906, Forgan invited McDougal to come to Chicago to organize the Bank Examination Department of the Chicago Clearing House Association and to become its official examiner, an office he held until 1914.
When the Chicago Fed was established in 1914, James B. McDougal was elected Governor. He served for 20 years, until his retirement in 1934. As the first leader of the Bank, he was responsible for its organization, as well as the development and administration of its functions. He piloted the Bank through the First World War and during the bank failures in 1932 and 1933.