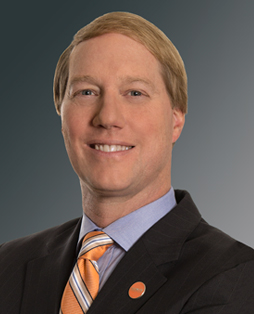 David W. Nelms
Class A Director, Term: 2015-2017; 2018-2020
Chairman and Former Chief Executive Officer
Discover Financial Services
Riverwoods, Illinois
David W. Nelms is chairman of the board of directors and is the former chief executive officer of Discover Financial Services. He is responsible for all Discover-branded financial services, including credit cards, student loans, personal loans, home equity loans, mortgages, CDs, money market accounts and checking accounts. He is also responsible for the Discover Network, a comprehensive payments network that supports multiple card products, issuers and processors; PULSE, one of the nation's leading PIN debit networks; and Diners Club International, a global payments network. In addition, Nelms serves as chairman of Discover Bank, the issuing bank for the Discover card brands.
Before his appointment at Discover in September 1998, Nelms served as a vice chairman of MBNA America Bank. Prior to that, he held management positions at Progressive Insurance, General Electric Company and Bain & Company Consulting.
In addition to his responsibilities with Discover, he is a member of the board of directors of CDW Corporation, a director and past chairman of the Executives' Club of Chicago and the Federal Reserve Bank of Chicago's representative on the Federal Advisory Council of the Board of Governors of the Federal Reserve System. Nelms is also chairman of the board of directors of Junior Achievement of Chicago, a board member of the Financial Services Roundtable and a member of the Civic Committee of The Commercial Club of Chicago. From 2008 to 2014, he was a member of the international board of the Juvenile Diabetes Research Foundation. Nelms holds a bachelor's degree in mechanical engineering from the University of Florida and an M.B.A. from the Harvard Business School.