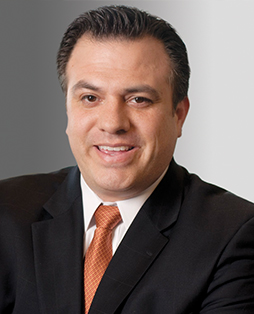 Jorge Ramirez
Class B Director, Term: 2013; 2014-2016; 2017-2019
Managing Director
GCM Grosvenor
Chicago, Illinois
Jorge Ramirez is Managing Director, GCM Grosvenor. Before joining GCM Grosvenor, Jorge was elected president of the Chicago Federation of Labor (CFL) in 2010. He previously served as secretary-treasurer. Prior to joining the CFL in 2006, Ramirez was elected vice president and served as executive director of Local 1546 of the United Food and Commercial Workers International Union, representing nearly 30,000 members in Chicago and throughout Illinois.
Since 2008, Ramirez has served on the Cook County Health and Hospitals System Board of Directors as Vice-Chairman. In 2012, he was named to the Chicago Infrastructure Trust board and the Cook County President's Council of Economic Advisors. He currently serves as a member of the U.S. Department of Labor's Labor Advisory Committee, the Chicago Convention and Tourism Bureau Board of Directors, the Navy Pier, Inc. Board of Directors, the Chicago Cook Workforce Partnership and is co-chairman of the City of Chicago Labor Management Cooperative Committee (LMCC) and on the Federal Reserve Bank of Chicago's Board of Directors.
He serves as co-chairman of the Chicago Manufacturing Renaissance Council and member of the National Manufacturing Renaissance Campaign design team and a director of the Lincoln Academy of Illinois. Ramirez also serves on the Mercy Home for Boys and Girls Board of Regents, the United Way of Metropolitan Chicago Board of Directors and a number of other boards and commissions.
The son of Mexican immigrants, Ramirez attended St. Anthony High School Seminary in San Antonio, Texas.
Ramirez received a law degree from the Chicago-Kent College of Law and graduated as a student scholarship athlete from the University of Texas at El Paso in 1993 with a double major in marketing and computer information systems and a four-year letterman in football.