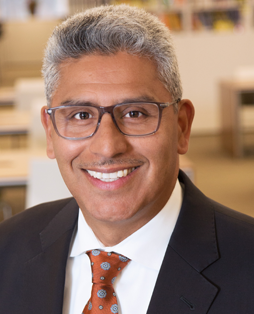 Juan Salgado
Class C, Deputy Chair, Term: 2022-2024
Chancellor
City Colleges of Chicago
Chicago, Illinois
Chancellor Juan Salgado has focused his career on improving education and economic opportunities for residents in low-income communities.
From 2001 to 2017, he served as CEO of Instituto del Progreso Latino, where he worked to empower residents of Chicago's Southwest Side through education, citizenship, and skill-building programs that led to sustainable employment and economic stability.
As Chancellor of City Colleges of Chicago, he oversees Chicago's community college system, serving nearly 70,000 students across seven colleges, 75 percent of whom are Black and Latinx students.
Under his leadership, City Colleges of Chicago has seen an increase in student graduation rates to the highest level on record, an unprecedented systems-level partnership with the Chicago Public Schools, the launch of Fresh Start, a first-ever debt forgiveness program, the completion of two new major state-of-the-art facilities, a re-energizing of fundraising for student supports, and campus specific plans focused on equity in student outcomes, among other efforts.
Chancellor Salgado is a community college graduate himself, earning an associate degree from Moraine Valley Community College, prior to earning a Bachelor's degree from Illinois Wesleyan University, and a Master's degree in Urban Planning from the University of Illinois at Urbana-Champaign.
Chancellor Salgado has been nationally recognized for his work, including as a 2015 MacArthur Fellow. Among his civic commitments, he serves as a board member of the Obama Foundation.