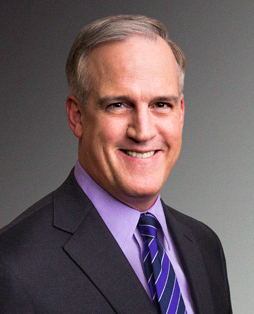 E. Scott Santi
Class C Director, Chair, Term: 2016-2017, 2018-2020, 2021
Chairman and Chief Executive Officer
Illinois Tool Works Inc.
Glenview, Illinois
E. Scott Santi is the Chairman and Chief Executive Officer of Illinois Tool Works Inc. (ITW). Celebrating its 100-year anniversary in 2012, ITW (NYSE: ITW) is a Fortune 200 global diversified industrial manufacturer of value-added consumables and specialty equipment with related service businesses. The company focuses on profitable growth and strong returns across worldwide platforms and businesses. These businesses serve local customers and markets around the globe, with a significant presence in developed as well as emerging markets. ITW's revenues totaled $14.5 billion in 2014, with more than half of these revenues generated outside of the United States.

Mr. Santi joined ITW in 1983 and has spent his entire career with the company. He was elected Executive Vice President of ITW's global Welding businesses in October 2004 and elected Vice Chairman in December 2008. In October 2012, he was named President and Chief Operating Officer and in November 2012, Chief Executive Officer. In May 2015, Mr. Santi was elected Chairman of the Board of Directors.

Mr. Santi is a member of the Board of Directors of W.W. Grainger (GWW). He is a member of the Board of Trustees of the Ravinia Festival Association, Northwestern University, the Museum of Science and Industry, the Chicago Symphony Orchestra Association and Rush Medical Center. Mr. Santi is also a member of the Civic Committee of the Commercial Club of Chicago and of the Economic Club of Chicago.
Mr. Santi graduated from the University of Illinois in 1983 with a B.S. degree in Accounting and received a Masters in Business Administration from the JL Kellogg School of Business at Northwestern University in 1992.