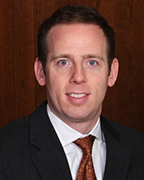 Jonathan M. Sargent
Executive Vice President, Todd & Sargent, Inc.
Jonathan M. Sargent is executive vice president of Todd & Sargent, Inc. Based in Ames, IA, Todd & Sargent was founded in 1958 and provides turnkey grain storage, handling and processing solutions to clients in the industrial agriculture sector across North America. In his current role, Sargent is responsible for the company's business and administration functions, including banking, bonding, insurance, contracts, legal, risk management and overall corporate strategy. He also serves as president of Todd & Sargent, Canada, Ltd, and has been a member of The Sargent Group, Inc., board of directors since 2008. He represents the third generation of the Sargent family involved in the company.
Sargent has served on the board of Associated Builders and Contractors of Iowa, as president of the Ames Public Library Friends Foundation and has been active in many other organizations including Leadership Iowa, Leadership Ames, CycloneCity, Construction Management Association and Renaissance Executive Forums, to name a few. Prior to his current role, he worked for several years in Chicago in Northern Trust's Wealth Management Group and Merrill Lynch's Private Banking and Investment Group. Sargent graduated from the University of Iowa with a major in finance and minors in Latin and Greek; he received his M.B.A. from the University of Chicago Booth School of Business.