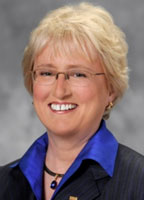 Nancy M. Schlichting
Director, Term: 2011-2013; 2014-2015; 2016
Chief Executive Officer
Henry Ford Health System
Detroit, Michigan
Nancy M. Schlichting is chief executive officer of the Henry Ford Health System. Schlichting previously served as executive vice president and chief operating officer for the system and was responsible for its hospitals, community care services, hospital joint ventures, physician practice development and integrated support services. In addition, she served as the president and chief executive officer of Henry Ford Hospital and was responsible for the operation of the Detroit Campus, which includes the hospital and the ambulatory services.

Prior to joining Henry Ford Health System in 1998, Schlichting was executive vice president and chief operating officer of Summa Health System in Akron, Ohio. She has also served as president of the Eastern Region of Catholic Health Initiatives, president and chief executive officer of Riverside Methodist Hospitals and executive vice president and chief operating officer of Akron City Hospital.

Schlichting serves on numerous community, professional and corporate boards including: the Michigan Health and Hospital Association, Greater Detroit Area Health Council, City Year, C.A.T.C.H., Fifth Third Bank of Eastern Michigan, Mayor's Time and Gilda's Club. Prior to moving to Michigan, she served on boards for the Arthritis Foundation, Leadership Akron, Inroads Columbus, Columbus chapter of American Red Cross, Franklin University, InterHealth, United Way of Franklin County, United Way of Summit County, Akron Regional Development Board, YWCA, YMCA Capital Campaign, University of Akron College of Business Administration Advancement Council, First National Bank of Ohio and Ameritrust's Columbus Advisory Branch.

She also has served on the boards of Fifth Third Bank Corporation, First National Bank of Ohio and Ameritrust's Columbus Advisory Board. Schlichting is a past president of the Sloan Alumni Association at Cornell University, has served on the Cornell Council and has served as a preceptor and lecturer for graduate programs in health care administration for Ohio State, Xavier, Duke, Cornell, University of Michigan and the Medical College of Virginia. She has given numerous presentations at local, national and international meetings and was recognized as a 1991 "Up and Comer" by Modern Healthcare, a "Top 100 Most Influential Women in Detroit" by Crain's Business in 2002 and was recently inducted into the Macomb Hall of Fame.

Schlichting earned her bachelor's in public policy studies degree from Duke University where she graduated magna cum laude. She received her masters in business administration in hospital administration and accounting from Cornell University. Schlichting served her administrative residency at Memorial Sloan-Kettering Cancer Center and her administrative fellowship at the American Hospital Association/Blue Cross Blue Shield Association. She has also completed a healthier communities fellowship with the Health Care Forum.