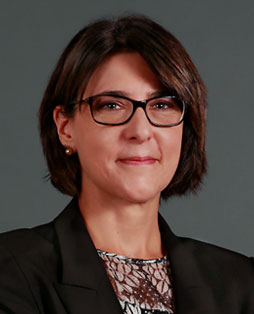 Katherine Schrepfer
Senior Vice President, General Counsel, Corporate Secretary, Ethics Officer, Information Security, Strategy, and Enterprise Risk Management
Katherine Hilton Schrepfer is senior vice president, general counsel, corporate secretary and ethics officer for the Chicago Fed. She leads the Bank's Legal Department and Office of the Directors and provides a wide variety of strategic legal support to the Bank. She is also a member of the Executive Committee and oversees other areas of the Bank including Strategy, Information Security and Enterprise Risk Management.
Previously, she was vice president and associate general counsel for the Chicago Fed, and handled a variety of legal, corporate governance and ethics matters. Before that, she was assistant vice president and assistant general counsel. She began her career at the Chicago Fed in 1992 as a staff attorney.
Schrepfer received a bachelor's degree in Political Science from the University of Illinois, Champaign-Urbana and a J. D. from Loyola University Chicago School of Law.