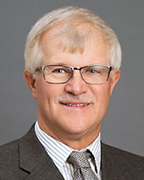 Larry Wappel, Sr.
President and Chief Executive Officer, Wappel Grain and Herb
Larry Wappel, Sr., is president and chief executive officer of Wappel Grain and Herb, which is a 8,000 acres operation spanning five northwest Indiana counties. Wappel's farm business grew from the roots of what his father began in 1946 with 120 acres. After graduation from high school, Wappel's dad (seeing his love for agriculture) offered to purchase a new line of equipment if he worked with him. Wappel attended Purdue University for a short course program in agriculture and then return to the farm. Since then he has expanded acreage and varied his crop varieties to include peppermint and spearmint, and some other minor crops for rotations.
Wappel is an expert marketer with grain merchandizers at Cargill International, The Andersons and Consolidated Grain and Barge. His relationships with these large purchasers, combined with his skill in utilizing the Chicago Board of Trade, keeps him at the top of his game financially. In the late 2000s, Wappel's sons joined him in the operation full-time, after attending Purdue University. They have helped make Wappel Grain and Herb one of the most progressive technology-driven farming operations in the state of Indiana, if not the country.