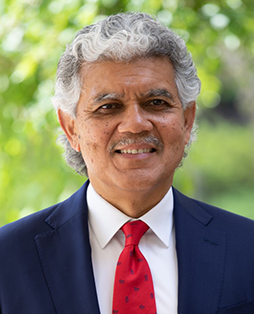 Dr. M. Roy Wilson
Director, Term: 2022-2023
President
Wayne State University
Detroit, Michigan
M. Roy Wilson, M.D., M.S., was unanimously elected President of Wayne State University by the Board of Governors on June 5, 2013. He assumed the presidency on August 1, 2013.
Prior to joining Wayne State, Dr. Wilson served as deputy director for strategic scientific planning and program coordination at the National Institute on Minority Health and Health Disparities (NIMHD) of the National Institutes of Health (NIH).
Previously, Dr. Wilson was dean of the School of Medicine and vice president for health sciences at Creighton University, president of the Texas Tech University Health Sciences Center, chancellor of the University of Colorado Denver/Anschutz Medical Campus and chair of the Board of Directors of University of Colorado Hospital. Immediately prior to joining NIH, Dr. Wilson chaired the Board of Directors of Charles R. Drew University of Medicine and Science and was acting president during part of that time.
Dr. Wilson's research has focused on glaucoma and blindness in populations from the Caribbean to West Africa. He holds elected memberships in the National Academy of Medicine (Institute of Medicine), the Glaucoma Research Society, the American Ophthalmological Society, and the Society of Medical Administrators. He has served on the executive committee of the NIH-funded Ocular Hypertension Treatment Study and chaired the Data Monitoring and Oversight Committee of both the NIH-funded Los Angeles Latino Eye Study, and the African-American Eye Disease Study. Dr. Wilson was a member of the advisory councils of both the National Institute on Minority Health and Health Disparities and the former National Center for Research Resources, and currently serves on the Advisory Council of the NIH Director as well as the NIH Director's National Advisory Committee on Diversity in the Biomedical Research Workforce (Co-chair). He has served on the governing boards of many national organizations including the Association of Public and Land-Grant Universities (APLU) and the Association of American Medical Colleges (AAMC), where he served as Chair (2017-2018), and currently serves on the governing boards of Research!America and Alliance for Health Policy.
Dr. Wilson received his undergraduate degree from Allegheny College, an M.S. in epidemiology from the University of California, Los Angeles, and an M.D. from Harvard Medical School. He was selected for the list of Best Doctors in America for a consecutive 14 years by Best Doctors Inc. and was a finalist for the Los Angeles Business Journal's Healthcare CEO of the Year in 2011.
His additional honors include the American Academy of Ophthalmology's Senior Achievement Award, the Distinguished Physician Award from the Minority Health Institute, the Herbert W. Nickens Award from the Association of American Medical Colleges, the NIH Director's Award, the President's Award from the American Glaucoma Society, the Lifetime Research Award from the W. Montague Cobb Institute, the Justice Award from the Arab-American Civil Rights League and the Detroit branch of the NAACP, and the Excellence in Educational Leadership Award from the Detroit Regional Chamber.