The Federal Reserve Bank of Chicago has announced that Charles L. Evans, president and chief executive officer, will retire in early 2023. The Chicago Fed's Board of Directors has formed a search committee and is conducting a rigorous nationwide search for his successor.
---
Learn more about the comprehensive search process the search committee is undertaking by reviewing the information on this site and updates to be provided in the coming months. Public input, feedback, and inquiries about the selection process are welcome and can be submitted through the form on the bottom of the page or directly to
CHI.President.Search@chi.frb.org
.
About the Chicago Fed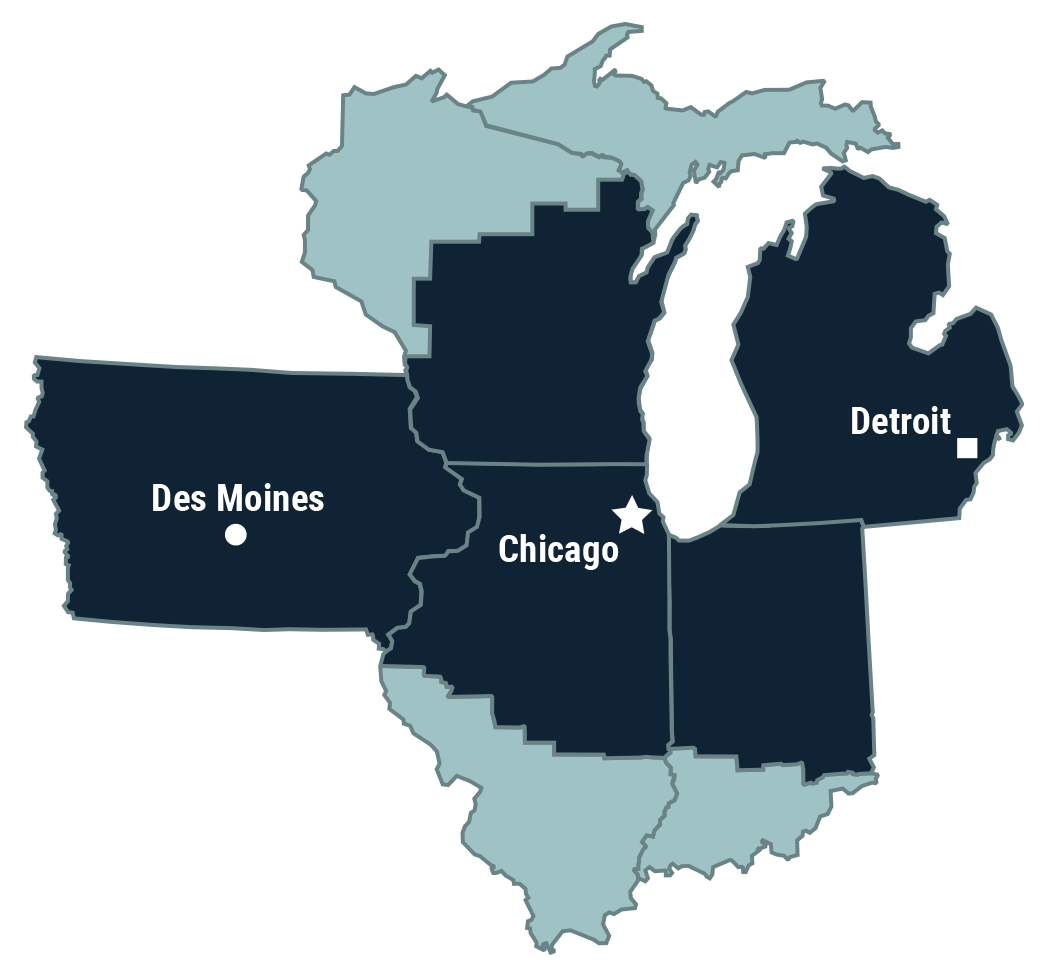 At the Federal Reserve Bank of Chicago, we foster economic opportunity by advancing a healthy and inclusive economy and promoting a trusted financial system so people can borrow, save, and spend. We serve the public through strong collaboration, fresh approaches, and unique perspectives.
The Chicago Fed contributes to the formulation and implementation of national monetary policy, supervises and regulates designated financial institutions, and provides financial services to depository institutions and the U.S. government. We serve the Seventh Federal Reserve District, which is comprised of Iowa and most of Illinois, Indiana, Michigan, and Wisconsin. The Chicago Fed is part of the Federal Reserve System, which is made up of 12 regional Reserve Banks and the Board of Governors in Washington, D.C. Together, we serve as the central bank for the United States.
Seventh District Facts and Figures
Population
35 million – nearly 1/10 of the U.S. population
---
The Seventh District:
Produces 44% of the nation's corn
Produces 40% of the nation's soybeans
Manufactures 35% of the nation's automobiles and small trucks
Home to 2.2x the national average employment in machinery manufacturing
Serves as the headquarters for 72 Fortune 500 companies, including Walgreens, Boeing, General Motors, Eli Lilly, United Airlines, Northwestern Mutual, Deere, AbbVie, State Farm, and Principal Financial, as well as some of the largest private companies in the country.
Home to Chicago, the nation's third largest metropolitan area, and other major cities such as Detroit, Milwaukee, Indianapolis, Madison, and Des Moines.
Chicago serves as a global financial services hub, leading in such areas as derivative markets and risk management.
Home to some of the nation's most prestigious colleges and universities, including the University of Chicago, Northwestern University, and the University of Notre Dame, and eight of the "Big 10" universities, including Indiana University, the University of Illinois, the University of Iowa, the University of Michigan, and the University of Wisconsin.
Thank you!
We value your input.