CDFI Fund 2012 Awards to Community Development Financial Institutions (CDFI)
The Community Development Financial Institutions (CDFI) Fund of the U.S. Department of the Treasury recently announced the largest set of awards in total to CDFIs in its history—over $185 million to 210 organizations in more than 40 states and the District of Columbia.
Through the CDFI Program's Financial Assistance, Technical Assistance, and Native American CDFI Assistance (NACA) award programs, the CDFI Fund invests in and builds the capacity of for-profit and non-profit community-based lending organizations known as Community Development Financial Institutions, or CDFIs. These organizations, which must meet criteria specified by the U.S. Treasury Department and undergo formal certification, serve rural and urban low-income people and communities across the nation that lack adequate access to affordable financial products and services. Awards are granted through a competitive application process annually.
Additionally, in FYs 2011 and 2012, the Healthy Food Financing Initiative (HFFI) served as a supplemental funding opportunity under the CDFI Program for eligible CDFIs to expand their healthy food-focused financing activities. The HFFI is an interagency initiative involving the CDFI Fund, the U.S. Department of Health and Human Services, and the U.S. Department of Agriculture to increase the supply of and demand for nutritious foods in low-income urban and rural areas in the United States.1
During the economic downturn, CDFIs saw demand for their products increase dramatically, as available credit from mainstream financial institutions contracted. A recent article in Profitwise News and Views, "Small Business Access to Capital: Alternative Resources Bridging the Gap", describes the challenges and opportunities faced by one Chicago-based CDFI, ACCION Chicago, an award recipient in this most recent round. While lending standards are beginning to show signs of easing, 2 CDFIs continue to experience elevated levels of activity, with more than 50% reporting an increase in demand—a level not seen since the first quarter of 2009 (see Chart below).
The CDFI Fund remains an important source of capital for organizations providing affordable housing, home mortgage, small business, and consumer lending products, as well as financial education and other services to borrowers in underserved communities.
1. Percentage of all CDFIs reporting an increase or decrease in applications received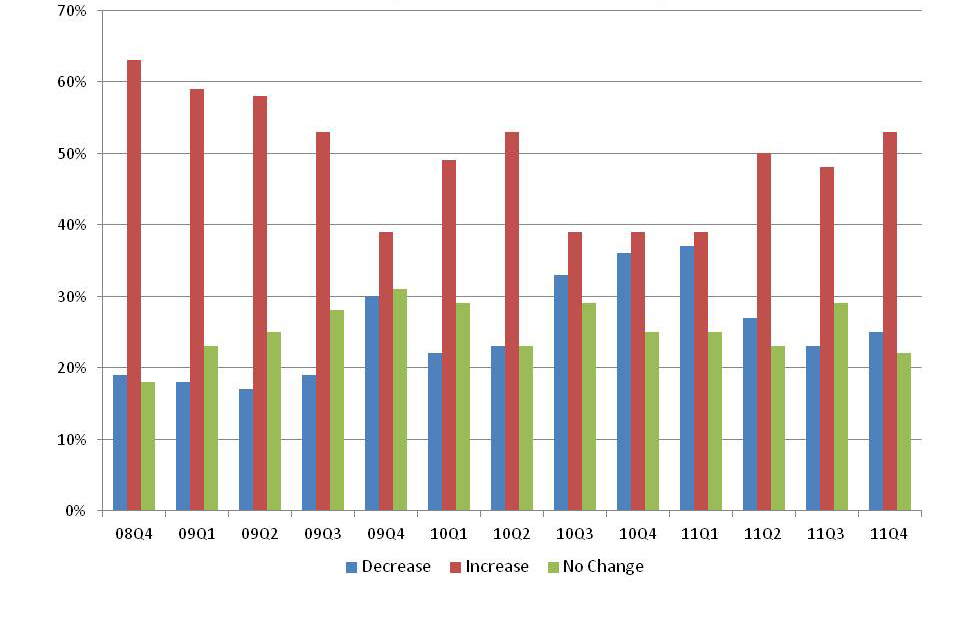 Source: Opportunity Finance Network: CDFI Market Conditions Report (3rd & 4th Quarter 2011 Report II – Detailed Tables)
CDFIs in the Seventh District that received FY2012 awards from the CDFI Fund are:
For more information on the CDFI announcement please review the release.
Footnotes
The views expressed in this post are our own and do not reflect those of the Federal Reserve Bank of Chicago or the Federal Reserve System.