Community Development and Policy Studies (CDPS) tours target communities of the Local Initiatives Support Corporation's (LISC) New Communities Program
On Tuesday, July 24, the Federal Reserve Bank of Chicago's CDPS division took a bus tour with LISC New Communities Program director Chris Brown to several projects under the New Communities Program. The tour started in South Chicago, moved into Englewood, and ended in Woodlawn. The group toured a private residential home, viewed two affordable housing complexes, an assisted living community, and visited an urban organic farm. The tour ended at a local restaurant, where the staff heard from leaders at the Quad Communities Development Corporation (QCDC) and the CARA Program.
The first stop was at a house that was built by Claretian Associates, a group that each year "serve(s) more than 2,500 families by helping them access better housing, other housing resources and referrals, and the tools they need to build a better community in South Chicago." The highly energy-efficient houses are part of the New Homes for South Chicago program and were built in multiple phases. In addition to single-family housing, the organization develops high-quality, affordable rental housing, including the Casa Kirk Apartments, and assisted living communities, such as the Victory Center Assisted Living complex. As a cultural amenity, and as part of strategy to promote safer, healthier communities, the organization also developed an arts center, and has plans for further cultural facilities.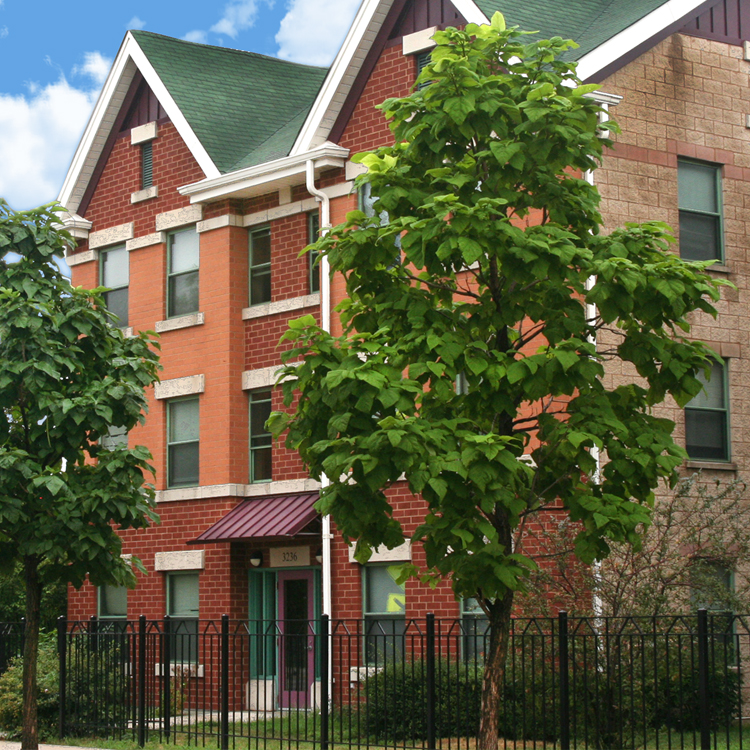 ©2012 Federal Reserve Bank of Chicago, photo by: Katherine Theoharopoulos
The second stop was at Growing Home, which provides "transitional employment and training to Chicagoans who have multiple barriers to employment, such as, having been previously homeless or incarcerated." Growing Home is an organic farm, a (thoughtful) reuse of formerly blighted Englewood property that provides supplemental employment in the community, as well as fresh produce. The farm sells to the Green City Market, specialty restaurants, and community residents. Additionally, Growing Home has worked with Link (which provides public assistance through stored value cards) so that one day of the week, Link card holders pay half price when purchasing any fresh produce. Fresh produce is so much in demand in this community that the farm, which produced 6.5 tons of produce in 2011, regularly sells out during normal business hours. Growing Home is expanding by opening another plot of land to farm; with a single farm, the group's revenue grew from $662,697 in 2008 to $926,615 in 2010.1
©2012 Federal Reserve Bank of Chicago, photo by: Katherine Theoharopoulos
The second to last stop was to the Grove Parc Housing Development, which (the organization) Preservation of Affordable Housing (POAH) acquired in 2008. "POAH has worked collaboratively with a broad range of stakeholders to develop a comprehensive plan which will address the failed Grove Parc development and revitalize the broader Woodlawn neighborhood." This development is the beginning of a multi-phase project that will focus on changing the community through improved housing and infrastructure, education, economic development, and public safety. While a few of the housing structures have already been built, there are plans for more mixed-income housing, a community resource center, and a tentative plan for building a hotel to draw additional business and commercial traffic into Woodlawn.
The tour ended with a lunch held at Norman's Bistro, a business that was supported by QCDC. QCDC brings together residents, organizations, businesses and institutions within North Kenwood, Oakland, and portions of Douglas and Grand Boulevard to plan, guide, support, and monitor human infrastructure and community development activities in order to create a sustainable, healthy, mixed-income neighborhood. A presenter from the CARA Program (a workforce development organization) discussed the group's impact on employment in the region, as well as savings derived from hundreds of workers being removed from public assistance and no longer using various services aimed at homeless and unemployed residents.CARA's mission is to "prepare and inspire motivated individuals to break the cycle of homelessness and poverty, transform their lives, strengthen communities, and forge paths to real and lasting success". They reported 232 permanent job placements, 252 transitional job placements, and a 77% retention rate for those employed at least one year.2
Footnotes
1 Growing Home 2010 Annual Report.
2 Performance Update as of December 31, 2011.
The views expressed in this post are our own and do not reflect those of the Federal Reserve Bank of Chicago or the Federal Reserve System.