Industrial Cities Initiative Symposium Summary
The Community Development and Policy Studies division of the Federal Reserve Bank of Chicago hosted the Industrial Cities Initiative (ICI) Symposium on February 28, 2012. More than 50 economists, community and economic development professionals, city representatives, and analysts from business, academia, and city government attended the symposium. So far, ICI has been a year-long endeavor to better understand the economic, demographic, and social trends shaping industrial cities in the Midwest. Although the initiative is ongoing, the purpose of the symposium was to share our methodology and findings to date; draw on complementary academic and policy research; and explore public policy initiatives that might foster growth and rebirth in former industrial cities that have lagged economically. Currently, the study is examining 10 cities, indicated on the map with red diamonds.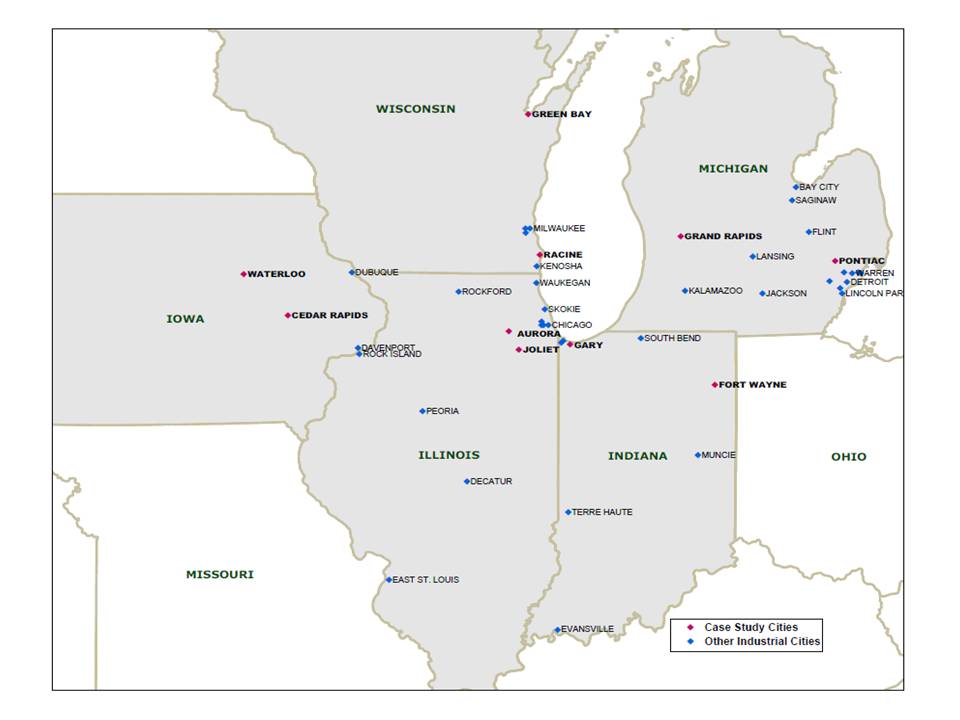 William Testa, Vice President and Director of Regional Programs at the Federal Reserve Bank of Chicago, kicked off the day's discussions by presenting economic trends for an assortment of Midwest cities, along with overviews of their manufacturing histories. Testa explained that manufacturing jobs in the Great Lakes region have declined by 50 percent since 1969. The rest of the country has exhibited a similar trend. However, the Midwest historically had a higher concentration in manufacturing than the rest of the nation; accordingly job losses – and their impact – have been more acute (as indicated in the following graph) in the Midwest. Testa also explained how an educated work force, which has been shown to foster innovation and entrepreneurship, as well as attract amenities, has a positive impact on both income and employment. Many midwestern manufacturing cities remain challenged to overcome their manufacturing legacies and leverage the benefits of a skilled work force.
1. Manufacturing share (83 MSAs)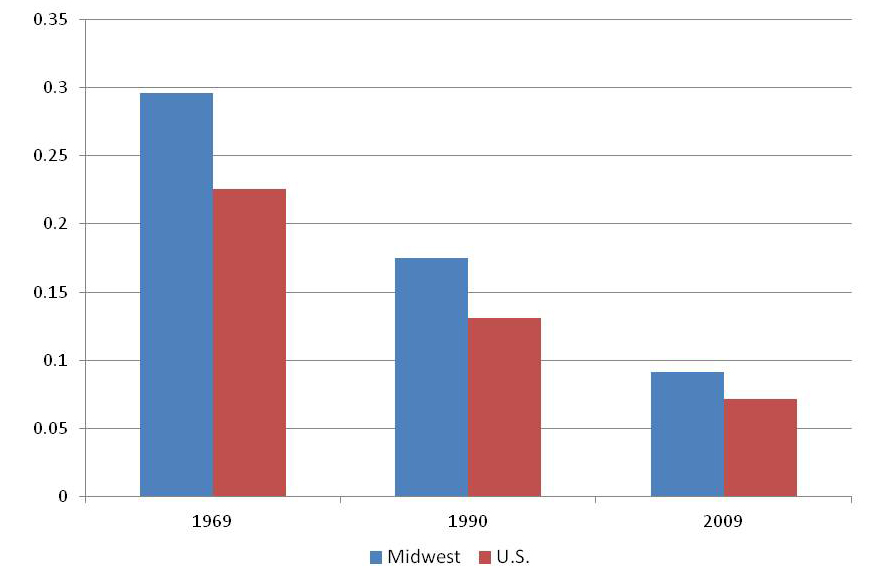 Source: Bureau of Economic Analysis, U.S. Department of Commerce
Next, Jeremiah Boyle, Managing Director of Economic Development at the Federal Reserve Bank of Chicago, discussed the progress of the initiative and certain findings to date – both quantitative (data analysis) and qualitative (interviews) information. Four themes that emerged from the data and the interviews are:
developing a 21st century work force takes coordinated efforts to build skills and boost educational attainment;
competing in a global economy requires regional cooperation and concerted efforts to reduce parochialism;
financing economic development entails the skillful leveraging of public and private resources; and
having leadership that works together results in an articulated, shared vision and strategy for community economic well-being.
Rick Matoon, Senior Economist and Economic Advisor at the Federal Reserve Bank of Chicago, moderated a panel featuring authors of other studies and initiatives exploring factors that contribute to the economic success of industrial cities.
Hal Wolman Professor at George Washington University, presented his "Research on Distressed Cities/Regions," including an overview of four studies that identified and isolated some of the elements affecting economic performance in local and regional contexts. While the findings varied by study, Wolman reported that: (1) regional performance was affected by both education level/educational facilities and population size; (2) local economic performance was affected by wages, crime rate, and age of population; and (3) leadership is vital, but hard to quantify.
Yolanda Kodrzycki, Vice President and Director of the New England Public Policy Center at the Federal Reserve Bank of Boston, discussed her paper entitled "Reinvigorating Springfield's Economy: Lessons from Resurgent Cities." Springfield faces many of the same challenges as other manufacturing cities, including high rates of chronic poverty. This paper is one in a series from the Boston Fed that is part of a broader initiative to support renewed economic growth in Springfield. The Boston Fed selected a group of similar cities against which to benchmark Springfield's progress.
Randy Eberts, President of the Upjohn Institute, concluded the panel by discussing the Northeast Ohio (NEO) Dashboard Indicators project, which provides a framework for understanding regional economic processes while also tracking the progress of the regional economy.
The keynote speaker was Richard Longworth, author of "Caught in the Middle: America's Heartland in the Age of Globalism." Longworth explained that while many of the ideas of the ICI were not new, the unique contribution of the project was compiling these ideas in one place. "If the Midwest is going to get out of this bad century before it comes to pass … it's projects like this that will lead the way." Longworth emphasized that many midwestern cities may ultimately succeed because of their proximity to Chicago and underscored the need for more work force development throughout the Midwest. The ICI will address each of these ideas at greater length during its next stage.
The day ended with a panel moderated by Testa discussing lessons from manufacturing and automotive communities. The panelists included Paul Krutko, President and CEO of Ann Arbor SPARK, Kristin Dziczek, Director, Labor and Industry Group at the Center for Automotive Research, and Kim Hill, Director, Sustainability and Economic Development Strategies, and Director, Automotive Communities Partnership and Associate Director, Research at the Center for Automotive Research. Krutko pointed out the importance of U.S. manufacturing as a driver of research and innovation. Manufacturing is challenged by a steep decline in employment, despite rising output due to both off-shoring and technological advancements. Some of Krutko's strategies to strengthen the manufacturing sector in the Midwest are: (1) grow from within; (2) work force development; (3) invest in innovation; and (4) invest in sustainability.
Echoing some of the other speakers, Dziczek discussed the need for more education and work force development. With current-year U.S. vehicle production projected at over 10 million units and automotive manufacturing employment at over 750,000 by 2015, a skilled labor shortage is virtually certain. Dziczek concluded that industrial cities need to spend more time helping dislocated workers, new graduates, and disadvantaged workers acquire advanced skills to meet future employment needs.
Kim Hill concluded the symposium by discussing the Automotive Communities Partnership, in which companies and municipalities cooperate to enhance their relationship in places with an automobile manufacturing legacy. The partnership is a forum for topical issues and actions, providing communities with industry information around emerging, current, and obsolescent (or soon to be) technology, green development, risks and opportunities for existing or potential new plants related to supply chains, energy prices and inventories, among others. One significant accomplishment of the partnership is the repurposing of auto plants.
To learn more about our findings, please review the white paper.
The views expressed in this post are our own and do not reflect those of the Federal Reserve Bank of Chicago or the Federal Reserve System.