Racine Profile
Why was Racine Chosen for the ICI Study
Like all the other cities in the ICI study, Racine was a manufacturing hub in the 1960s. The city has long been a major manufacturing hub for fanning mills (machines that separate wheat kernels from chaff). While manufacturing jobs represent proportionately less of the city's workforce than in the 1960s (roughly 50% then versus approximately 25% during the 2005-2009 ACS estimate), manufacturers like J.I. Case (now known as CNH Global), S.C. Johnson and Sons (formerly Johnson Wax), and InSinkErator, are all headquartered in Racine.
Some Background
Racine, located on the western shore of Lake Michigan, at the mouth of the Root River and approximately midway between Milwaukee and Chicago, has used its proximity to both cities to attract large employers. Racine residents can enjoy water sports on Lake Michigan and scenic small towns in the region, in addition to the many cultural, recreational, and other amenities in the major cities to its north and south.
Economic Development
The Racine County Economic Development Corporation (RCEDC) was created in 1983 following a deep recession triggered by Fed monetary action to stem rampant inflation during the 1970s. After the recession, Racine's heavily concentrated manufacturing employment base started to decline. Racine's business community came together to form RCEDC, a private, non-profit organization whose goal is to build a diversified economic base in Racine County by working cooperatively with partners in government, educational institutions, and others to create a civic environment conducive to business investment. RCEDC offers business development programs and has developed a business credit initiative. Between 2007 and 2009, RCEDC loaned $6.3 million to 25 companies, which leveraged $23.3 million in new, local projects. According to RCEDC data, the organization has provided assistance to 42 private companies, created 465 new jobs, and retained 155 jobs, and attracted or helped to launch nine additional employers to the area.1
Education
Racine has gradually raised educational attainment levels over the past 40 years. As shown in the chart below, the percentage of people in the city without a high school diploma dropped significantly from 50.5% in 1970 to 18.6% in 2005–09. The percentage of residents with some college or a college degree increased from 17.3% to 44.6% over the same period. However, over the past two reporting periods these gains have started to level off.
1. Representation ratio: educational attainment, Racine to Wisconsin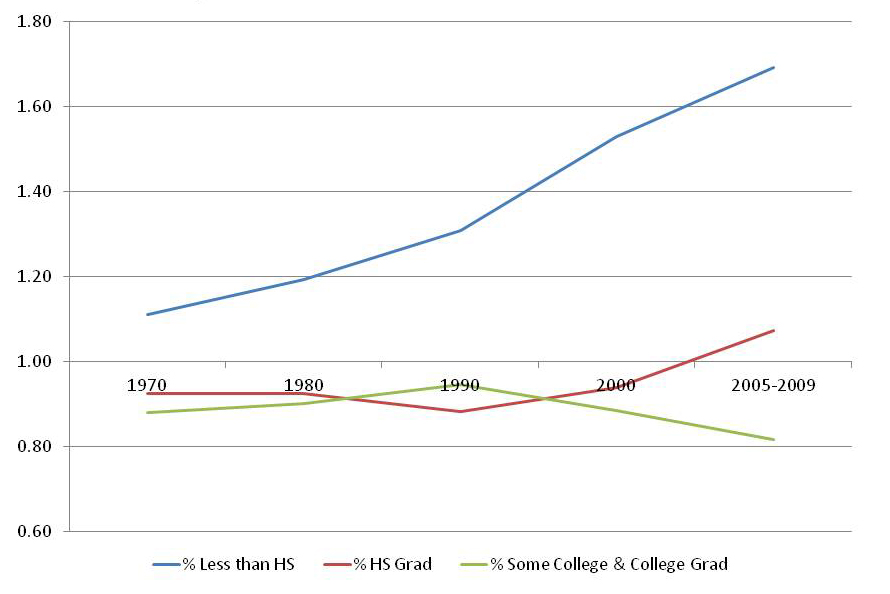 2. Representation ratio: educational attainment, Racine to U.S.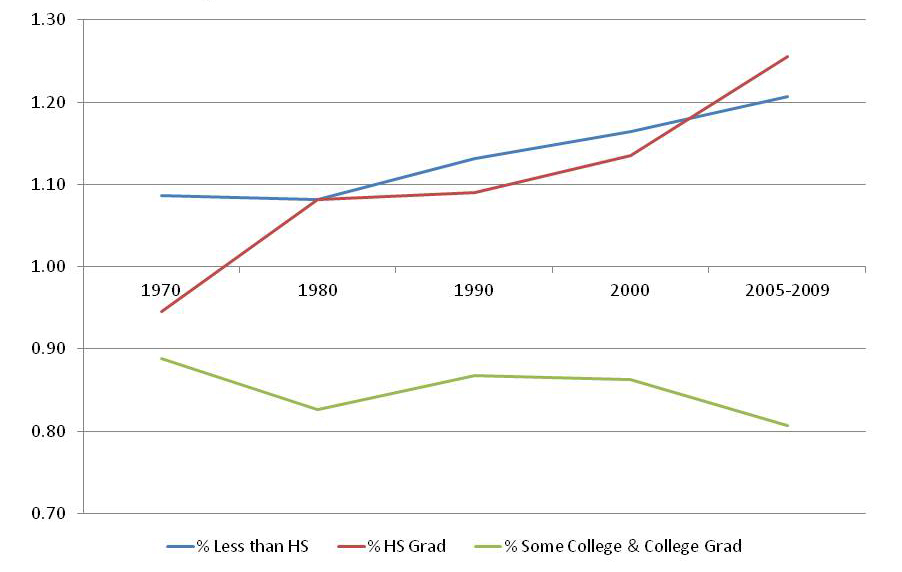 Improving employment prospects for non-high school grads
Workers who do not have a high school degree face strong headwinds in seeking employment. To address this issue, RCEDC promotes work force training programs as well as general education. The group offers many services to "find employment, improve the education and training of the local work force and assist area businesses in filling their job openings."
Many Racine employers report that they have vacant jobs that are not being filled because many of the prospective employees lack the full range of skills needed for those jobs. Many employers seek skills that require apprenticeships or a two-year degree. For example, a welder or someone who can run a computer-operated lathe has relatively strong job prospects. However, even these jobs are changing; lathe operators are now expected to understand the software that runs the lathe and possess the necessary "people skills" to interact with everyone needed to keep the lathe working as designed. These types of employees are more productive than their predecessors of 20 years ago, and are paid competitive market wages. However, suitable candidates for these jobs are in short supply.
Employers work with local technical schools to match students with job openings. Similarly, the local technical schools help enrolled students find a position upon graduation. For example, Gateway Technical College and University of Wisconsin-Parkside work very closely with Racine employers to align their curricula with the employers' needs.
In many ways, Racine is emblematic of the challenges that Midwestern industrial cities face. As William Testa wrote in a recent blog, "Driving around the City of Racine, one can clearly see the challenges to planning and redevelopment as they relate to the region's economic base and physical footprints." "Manufacturing as Destiny, Part II" Testa concludes that, "All things considered, the redevelopment achievements of many of our older manufacturing cities are remarkable."
Footnotes
1 Opportunity, Jobs for Racine County: Racine County Economic Development Corporation.
The views expressed in this post are our own and do not reflect those of the Federal Reserve Bank of Chicago or the Federal Reserve System.