Focus on Small Business: Small Business Credit Survey Results & Small Business Week
Community Development and Policy Studies (CDPS) of the Chicago Federal Reserve, along with all the other Federal Reserve Banks in the system, is now participating in the Small Business Credit Survey. "More than half of Americans either own or work for a small business, and they create about two out of every three new jobs in the U.S. each year," according to the Small Business Administration (SBA), highlighting how small businesses are integral to achieving the Federal Reserve's dual mandate, which includes maintaining full employment. The New York Federal Reserve recently released results for the small business survey shortly before the SBA's small business week (#smallbusinessweek) April 30-May 6, 2017, a national week dedicated to promoting and highlighting the work of entrepreneurs and owners.
Background on the Small Business Credit Survey
The small business credit survey collects information about business performance, financing needs, credit choices, and borrowing experiences of firms with 500 or fewer employees. Responses to the survey provide insight into the dynamics behind aggregate lending trends and noteworthy segments of small businesses. (The results are weighted to reflect the full population of small businesses. However, the survey is not a random sample. Therefore, results should be analyzed with awareness of potential methodological biases.) The survey was launched in 2014 through an effort that merged the regional surveys conducted by several Federal Reserve Banks. The 2016 Survey is the first national small business survey with involvement from all 12 Federal Reserve Banks and input from all 50 states. Over 10,000 small employer firms responded to the survey. Breakdown for respondents from Seventh District states were as follows:
| | |
| --- | --- |
| 7th District State | Number of Respondents |
| Illinois | 234 |
| Indiana | 120 |
| Iowa | 62 |
| Michigan | 131 |
| Wisconsin | 112 |
Highlights of the 2016 Findings
Employer small businesses reported that although many were profitable and optimistic, a significant majority had faced financial challenges, experienced funding gaps or relied on personal finances.
The vast majority (87 percent) of employer firms rely on the owners' personal credit scores to obtain funding. Additionally, over 75 percent of firms with financial challenges used personal funds to address the problem, as opposed to other options such as making a late payment or cutting staff hours (see chart 1).
Chart 1
Many small business owners struggle to cover their operating expenses. Lack of access to credit often inhibits the ability to grow. These issues were even more pronounced for the smallest firms, which were less likely to receive necessary funding and more likely to rely on personal finances to operate. These findings highlight the obstacles to growth that small businesses face, and raise new questions about how to overcome them.
Only 30 percent of the firms surveyed were considered "healthy" according to the following criteria: (1) (2015) profitability; (2) low credit risk (business or owner has good or excellent credit score); and (3) growth through retained earnings (rather than owner's personal funds or credit to fund the business), as can be seen in the image below.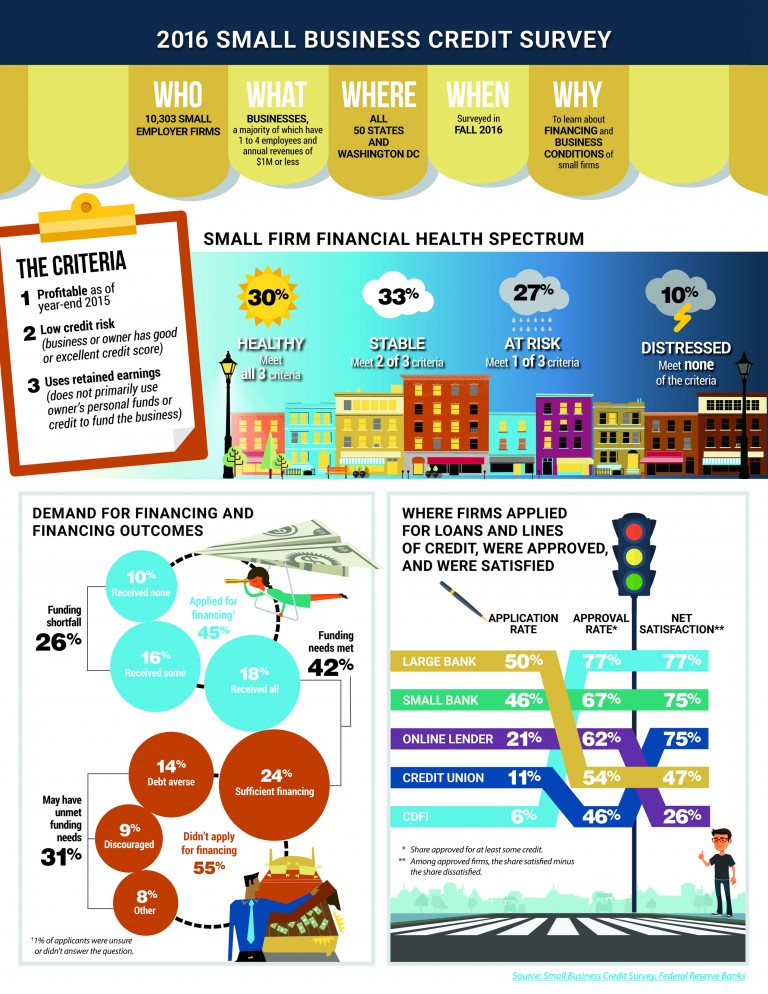 Additional reports on the 2016 Small Business Credit Survey will be released throughout 2017. These will take an in-depth look into specific types of small businesses, including start-ups, minority firms, and microbusinesses.
Background on National Small Business Week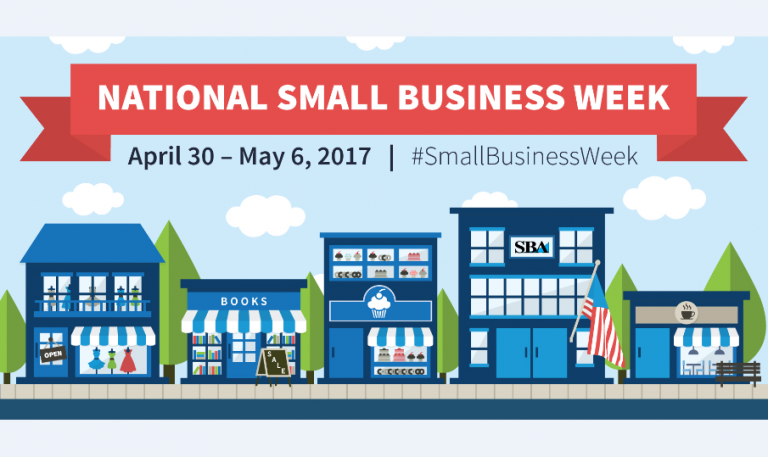 National Small Business Week serves as the nation's salute to the spirit of entrepreneurship and business ownership. Since 1963, the President has designated one week to recognize the contributions of small businesses to the economy. This year, the week of April 30 through May 6 is dedicated to celebrating America's 28 million small businesses. Whether your business is just an idea or you're looking to take your venture to the next level, Small Business Week provides useful training, networking opportunities, and special events across the country. To learn more about local SBA offices and the small business week events happening in your area, connect with your local SBA office.
The views expressed in this post are our own and do not reflect those of the Federal Reserve Bank of Chicago or the Federal Reserve System.