Corporate Social Responsibility Statement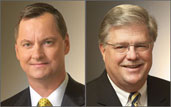 Federal Reserve Bank of Chicago President Charlie Evans (left) and First Vice President Gordon Werkema (right) released a statement about the Bank's commitment to Corporate Social Responsibility statement:
"We see Corporate Social Responsibility as a natural extension of our 'We Serve' vision and our core values. As part of our Corporate Social Responsibility, we see the opportunity to integrate the good work we're already doing in the areas of diversity and inclusion, financial literacy, community development and volunteerism and actively promote further collaboration between internal groups and external partners. We are confident that our continued efforts in these areas will result in better business performance and make us a stronger organization."