Last Updated: 05/19/10
News Release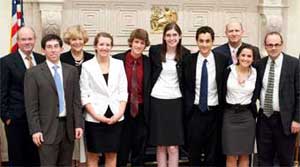 Saint Joseph's High School from Indiana Wins Fed Challenge National Competition
A team of six students from Saint Joseph's High School in South Bend, Ind.,  representing the Federal Reserve Bank of Chicago's Seventh District, yesterday won the High School Fed Challenge competition national championship held in Washington D.C.
Other participants in the finals were second place winner West Windsor-Plainsboro High School North, from Plainsboro New Jersey (New York District); third place winner Choat Rosemary Hall from Wallingford Connecticut (Boston District); and fourth place winner Chantilly High School from Chantilly, Virginia (Richmond District).
Federal Reserve Chairman Ben Bernanke welcomed the finalists and congratulated them on their success in the competition. 
The Fed Challenge was developed to encourage greater awareness among students of how the U.S. economy functions and the role of the Federal Reserve in the economy. Each team is required to analyze current economic data, develop a monetary policy recommendation and defend that recommendation in front of a panel of judges. The team prepares a 25-minute demonstration, which includes a 15-minute presentation on the economy and a 10-minute period where students answer questions from the judges.
Presentations must include a discussion of economic conditions as of the day of the competition; a forecast of near-term changes in economic, financial and international conditions, such as unemployment and inflation; identification of conditions or situations that warrant attention in the formulation of monetary policy; and a recommendation as to whether the Fed should move to raise or lower interest rates.

Judges at the final competition were John Weinberg, Research Director of the Federal Reserve Bank of Richmond; Jamie McAndrews, Director of Financial Research at the Federal Reserve Bank of New York; and Daniel Cooper, Economist at the Federal Reserve Bank of Boston.

To learn more about the Fed Challenge, visit the Chicago Fed's Web site at:
 
/education/econ-classroom/fed-challenge/index 
# # # #
The Federal Reserve Bank of Chicago is one of 12 regional Federal Reserve Banks that, along with the Board of Governors in Washington, D.C., constitute the nation's central bank. The Chicago Fed serves the Seventh Federal Reserve District, which encompasses the northern portions of Illinois and Indiana, southern Wisconsin, the lower peninsula of Michigan, and the entire state of Iowa. In addition to providing check processing and other services for financial institutions, each Reserve Bank serves as a bank for the U.S. government, supervises member banks and bank holding companies, monitors economic conditions in its district, and participates in the formulation of national monetary policy.