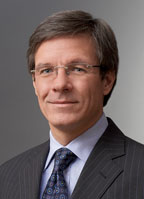 Thomas J. Wilson
Class C Director, Deputy Chairman, Term: 2008-2010; 2011
Chairman, President and Chief Executive Officer
The Allstate Corporation
Northbrook, Illinois
Thomas J. Wilson served on The Federal Reserve Bank of Chicago's Board of Directors from 2008-2011.
Wilson is the chairman, president and chief executive officer of The Allstate Corporation and Allstate Insurance Company.

Wilson has served as president and CEO of Allstate since 2007.  He became chairman of The Allstate Corporation's Board of Directors in May 2008.

From 2002 to 2006, Wilson was president of Allstate Protection, responsible for the company's property-casualty insurance operations.  In 2005 and 2006, he also served as president and chief operating officer of The Allstate Corporation.

From 1999 to 2002, Wilson was chairman and president of Allstate Financial, which provides life insurance, supplemental accident and health insurance, annuity, banking and retirement products.  From 1995 to 1998, Wilson served as Allstate's chief financial officer.  He joined Allstate in 1995 from Sears, Roebuck and Co., where he was vice president of strategy and analysis.
 
Prior to Sears, he was managing director of mergers and acquisitions at Dean Witter Reynolds from 1986 to 1993.  He has also held various financial positions at the Amoco Corporation, where he worked from 1980 to 1986.

Wilson was vice-chairman of the Federal Reserve Bank of Chicago.  He is a board member of Rush University Medical Center, the Museum of Science and Industry, Financial Services Roundtable, and Catalyst, the leading non-profit organization working to advance women in business.  He is also a member of the World Presidents' Organization, the Financial Services Forum, the Property and Casualty CEO Roundtable, The Business Roundtable and the Civic Committee of the Commercial Club of Chicago.

A native of St. Clair Shores, Michigan, Wilson holds a Master of Management degree from Northwestern University's J.L. Kellogg Graduate School of Management and a Bachelor of Science degree in Business Administration from the University of Michigan.