Seventh Annual Automotive Outlook Symposium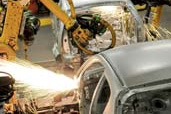 The seventh annual Automotive Outlook Symposium was held at the Detroit branch on June 1–2, 2000. The day-and-a-half conference focused on the long- and short-term forces shaping the vehicle industry. The event included a presentation by Chicago Fed Senior Economist William Strauss who will give the consensus outlook from Symposium participants.
Thursday, 06/01/00
12:00 PM
Welcome
Luncheon Speech: Globalization and the Automotive Industry
David&nbspAllardice
,
Senior Vice President and Branch Manager
,
Federal Reserve Bank of Chicago–Detroit Branch
G. Mustafa&nbspMohatarem
,
Chief Economist
,
General Motors Corporation
12:00 PM
Afternoon Sessions
Introduction to Panel Discussions
Speaker
Walter&nbspMcManus
,
Executive Director of Global Forecasting Services
,
J. D. Power and Associates
12:00 PM
Panel 1: The "New" Automotive Market from the Analysts' Perspectives
Moderator
William&nbspStrauss
,
Economic Advisor
,
Federal Reserve Bank of Chicago
Panelists
David&nbspLittmann
,
Senior Vice President
,
Comerica
Steve&nbspPolk
,
Chairman and Chief Executive Officer
,
R. L. Polk & Co.
Ed&nbspMcLaughlin
,
Director, Financial Markets
,
J. D. Power and Associates
12:00 PM
Panel 2: The "New" Automotive Market from the Managers' Perspectives
Moderator
Robert&nbspSchnorbus
,
Director
,
J. D. Power and Associates
Panelists
Richard&nbspBanfield
,
President
,
Magna Seating Systems
David&nbspTreadwell
,
Vice Chairman
,
ASC Incorporated
Richard&nbspBaker
,
Senior Partner, Business-to-Business
,
J. D. Power and Associates
Friday, 06/01/01
9:00 AM
Welcome
David&nbspAllardice
,
Senior Vice President and Branch Manager
,
Federal Reserve Bank of Chicago–Detroit Branch
9:00 AM
Morning Presentations
Consensus Economic Outlook
William&nbspStrauss
,
Senior Economist and Economic Advisor
,
Federal Reserve Bank of Chicago
2000–2001 Vehicle Sales Outlook
Paul&nbspBallew
,
General Director, Global Markets and Industry Analysis
,
General Motors Corporation
Heavy Truck Industry Outlook
Kenneth W.&nbspVieth
,
Co-principal
,
Americas Commercial Transportation Publications
1999 Big Three — UAW Labor Negotiations
Sean&nbspMcAlinden
,
Associate Research Scientist and Manager, Economic Studies
,
University of Michigan–Office for The Study of Automotive Transportation
1:00 PM
Afternoon Presentations
Issues on Fuel Economy in the New Millenium
Paul&nbspBlumberg
,
Director, Advanced Vehicle Technology Division
,
Ford Motor Corporation
Trends in Market Penetration of Foreign Nameplates
Haig&nbspStoddard
,
Manager, Industry Analysis
,
Ward's Communications