Eleventh Annual Automotive Outlook Symposium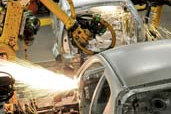 The Federal Reserve Bank of Chicago June 3-4 will host its eleventh annual Automotive Outlook Symposium at the Detroit Branch of the Chicago Fed. The day-and-a-half conference will focus on the long- and short-term forces shaping the vehicle industry.
The event includes a presentation by Chicago Fed Senior Economist William Strauss who will give the consensus outlook from Symposium participants.
Thursday, 06/03/04
12:00 PM
Lunch and Welcome
Glenn&nbspHansen
,
Senior Vice President and Branch Manager
,
Federal Reserve Bank of Chicago
1:00 PM
Keys to Successful Automotive Strategies
Jay&nbspWoodworth
,
President
,
Woodworth Holdings
2:00 PM
Panel
Moderator
Bob&nbspSchnorbus
,
Chief Economist
,
J.D. Power and Associates
Ted&nbspChu
,
Senior Economist
,
General Motors Corporation
Osman Kubilay&nbspGursel
,
Senior Modeling Consultant
,
Power Information Network
Jie&nbspCheng
,
Vice President, Solution Development
,
Power Information Network
Friday, 06/04/04
9:00 AM
Welcome
William&nbspStrauss
,
Senior Economist and Economic Advisor
,
Federal Reserve Bank of Chicago
Van&nbspJolissaint
,
Chief Economist
,
DaimlerChrysler Corporation
Break
Ken&nbspVieth
,
Co-principal
,
Americas Commercial Transportation Research Company
Paul&nbspTaylor
,
Chief Economist
,
National Automobile Dealers Association
1:15 PM
Afternoon Presentations
Rudolph&nbspSchlais
,
Chairman
,
I.T. United
David&nbspAndrea
,
Vice President of Business Development
,
Original Equipment Suppliers Association