State Budgets under Stress: Paths to Sustainability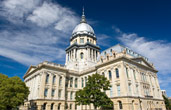 States have been through a series of tough budget cycles in the last years, and some suggest more stress is ahead. This program looked at the current state of budgets and long-term challenges.
This conference was co-hosted by Federal Reserve Banks of Chicago, New York and Philadelphia in partnership with John D. and Catherine T. MacArthur Foundation and National Association of Budget Officers (NASBO). 
Friday, 06/24/11
8:40 AM
Panel 1: What Are the Current Conditions in the States?
Budget directors and experts provide an overview of conditions. How are states handling the gaps? Are they utilizing recurring solutions or just more gap filling?    
Moderator
Scott&nbspPattison
,
Executive Director
,
National Association of Budget Officers
Laurence&nbspMsall
,
President
,
Civic Federation
Todd&nbspBerry
,
President
,
Wisconsin Taxpayers Alliance
Mike&nbspMorrissey
,
Senior Advisor
,
Governor's Office
Donald&nbspBoyd
,
Senior Fellow
,
Rockefeller Institute
10:00 AM
Coffee Break and Video Montage
10:15 AM
Panel 2: The View from the Markets
A rating agency professional and a municipal analyst provide their views of the historical market dynamics and some insights on the long-term challenges.
Moderator
Nora&nbspFitzpatrick
,
Federal Reserve Bank of New York
Panelists
Gail&nbspSussman
,
Managing Director
,
Moody's Investors Service
Matt&nbspFabian
,
Managing Director
,
Municipal Market Advisors
10:45 AM
Rules of Engagement for Rough Times
We have assembled some of the leading minds in public finance to get views on how to restructure state budgets. What are ways for states to face their pressures?
Moderator
Leonard&nbspNakamura
,
Federal Reserve Bank of Philadelphia
John Karl&nbspScholz
,
Professor
,
University of Wisconsin
Tracy&nbspGordon
,
Professor
,
University of Maryland/Brookings Institution
Randal C&nbspPicker
,
Professor
,
University of Chicago School of Law
12:00 PM
Lunch and Keynote Address: Toward Economically Sustainable State Budgets
Speaker
Robert&nbspInman
,
Professor
,
Wharton School, University of Pennsylvania