Farmland Leases: Tales, Types and Trends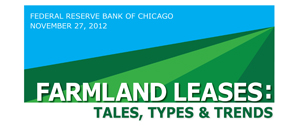 On November 27, 2012, the Federal Reserve Bank of Chicago held a conference to examine trends in farmland leasing and analyze various types of leases, within the context of the changes facing agriculture in the Midwest. The 2012 cash rents for midwestern farmland increased 17 percent from a year ago, according to the latest Chicago Fed survey. Cash rental rates for farmland in the Midwest have risen quickly in recent years, but still have lagged the increases in agricultural land values.
At the conference, experts from academia, industry and policy institutions discussed the relationships between increases in agricultural cash rents and land values, as well as various kinds of rental arrangements, types of owners and sources of income. The goals of the conference included understanding the dynamics of income generated by farmland leases; analyzing the characteristics and evolution of leasing arrangements; assessing the roles and risks of leases for agriculture and the banking industry; and probing the policy implications for farming and agricultural banking given recent farmland trends.