Farmland Leases: Tales, Types and Trends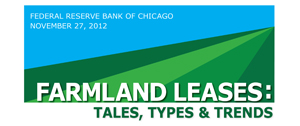 On November 27, 2012, the Federal Reserve Bank of Chicago held a conference to examine trends in farmland leasing and analyze various types of leases, within the context of the changes facing agriculture in the Midwest. The 2012 cash rents for midwestern farmland increased 17 percent from a year ago, according to the latest Chicago Fed survey. Cash rental rates for farmland in the Midwest have risen quickly in recent years, but still have lagged the increases in agricultural land values.
At the conference, experts from academia, industry and policy institutions discussed the relationships between increases in agricultural cash rents and land values, as well as various kinds of rental arrangements, types of owners and sources of income. The goals of the conference included understanding the dynamics of income generated by farmland leases; analyzing the characteristics and evolution of leasing arrangements; assessing the roles and risks of leases for agriculture and the banking industry; and probing the policy implications for farming and agricultural banking given recent farmland trends.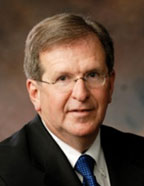 Murray Wise
Chairman and Chief Executive Officer, Murray Wise Associates LLC
Murray Wise has a simple yet intense passion: agriculture. His passion began on his family's Ontario grain and livestock farm which led to his role as founder of Westchester Group, Inc., the industry leader in farm and asset management and in farmland marketing through real estate and auction services.
Wise's ambition to excel in agriculture led him to Iowa State University, where he earned a bachelor of science degree in less than four years. Upon graduation, he began his career in farm management with the Sandage Companies in Ames, Iowa, a traditional farm management and brokerage firm. During the farm recession of the mid-eighties, he saw opportunity in farm asset management and in 1986 he formed Westchester Group, Inc. after acquiring the Champaign, Illinois division of the Sandage Companies.
Wise's innovative ideas and agricultural expertise is what has allowed Westchester to achieve unparalleled growth in 34 years. His strategic alliances with Cozad Asset Management and Schrader Real Estate & Auction Co., in Westchester's early days paved the way for the company to grow from small farmland-investor relations in the Midwest to working with institutional investors on a national and international scale.
Wise initiated the development of Westchester's sophisticated and exclusive multi-parcel auction system that allows buyers to openly compete for property in a highly charged atmosphere, maximizing the returns for the land owner. The multi-parcel system has allowed Westchester to receive numerous excellence awards, including two National Auctioneers Association's "Auction of the Year" awards.
In the third quarter of 2010, Wise sold a majority interest in Westchester Group, Inc. to TIAA-CREF to further their interest in building a global platform to invest in agriculture around the world. He continues to hold a board position with this company, as well as an equity ownership position. The Iowa farm real estate and management office of Westchester Group, Inc. and Westchester Auctions, LLC have recently changed names to Murray Wise Associates LLC. In addition to providing private treaty real estate transaction services and farm management for individual investors in the corporate restricted states, Murray Wise Associates LLC will also continue its stature as a leading national auction business using the unique multi-parcel approach to marketing farm and recreational properties throughout North America. Westchester Capital Advisors, LLC changed its name to Murray Wise Capital LLC and will continue offering investment banking and strategic advisory services to the agribusiness industry.
Wise is recognized as an industry authority on agricultural investment, valuation and management and has written two books on the topics, Investing in Farmland and Farmland Investment Strategy. He has appeared on countless national television news shows and is quoted regularly in many media outlets. Wise is also a repeat speaker at the Top Producer Annual Seminar and Purdue's Top Farmer Crop Workshop. Most recently, he chaired the World AgriInvest Congress in London, an event attended by international investors and asset managers to discuss the outlook for and investment opportunities in agricultural commodities.
Wise's zest for agriculture and wealth of knowledge is underscored by his ability to talk soil types with Iowa farmers as fluently as portfolio management with pension fund professionals. Given his understanding of the industry and his past successes, it's clear that Wise is one of American agriculture's most effective and forward-thinking leaders.
"Murray is a topnotch speaker with the best insights into the land market. Attendees at our Top Producer conference rated him among the very best and we quickly signed him for a return engagement for next year," said Marcia Taylor from Chicago's Top Producer Seminar, 2007.
"Few people work as closely with the land market as Murray. He knows the ins and outs of the business because he's in the thick of it everyday. Murray was a great addition to our program this year; he is a gifted speaker who delivered a valuable presentation to our conference attendees," said Bruce Erikson from the Purdue Top Farmer Crop Workshop, 2007.
Tuesday, 11/27/12
8:00 AM
Registration and Continental Breakfast
9:00 AM
Welcome and Opening Remarks
David B&nbspOppedahl
,
Business Economist
,
Federal Reserve Bank of Chicago
9:30 AM
Session 1: Types of Farmland Leases and National Trends
Jim&nbspFarrell
,
President and Chief Executive Officer
,
Farmers National Company
Todd&nbspKuethe
,
Economist
,
U.S. Department of Agriculture
10:45 AM
Session 2: Regional Trends in Agricultural Land Leasing
Gary&nbspSchnitkey
,
Professor
,
University of Illinois at Urbana-Champaign
Brent&nbspGloy
,
Associate Professor
,
Purdue University
Arlin&nbspBrannstrom
,
Farm Management Specialist
,
Center for Dairy Profitability, University of Wisconsin-Madison
12:00 PM
Lunch
Introduction
Daniel G&nbspSullivan
,
Executive Vice President and Director of Research
,
Federal Reserve Bank of Chicago
Keynote Speaker
Murray&nbspWise
,
Chairman and Chief Executive Officer
,
Murray Wise Associates LLC
1:30 PM
Session 3: Farmland Leasing for Energy Production
Justin&nbspSchneider
,
Staff Attorney
,
Indiana Farm Bureau Federation
Ross H&nbspPifer
,
Clinical Professor of Law and Director of the Agricultural Law & Reference Center
,
Pennsylvania State University
2:30 PM
Session 4: Panel Discussion — The Implications of Current Farmland Leasing Practices and Trends for Agricultural Lending
Moderator
Anna&nbspPaulson
,
Vice President and Director of Financial Research
,
Federal Reserve Bank of Chicago
Panelists
Dave&nbspArmstrong
,
Chairman and Chief Executive Officer
,
Greenstone Farm Credit Services
Leslie S&nbspMiller
,
Vice President
,
Iowa State Savings Bank
Jeffrey A&nbspJensen
,
Assistant Vice President, Supervision and Regulation
,
Federal Reserve Bank of Chicago